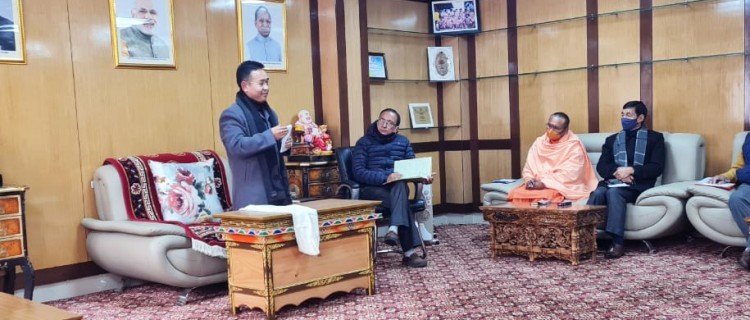 Monday, Jan 11, 2021 07:30 [IST]
Last Update: Monday, Jan 11, 2021 01:53 [IST]
Govt to table resolution for ST status to left out communities
GANGTOK,: Sikkim government plans to table a resolution seeking Scheduled Tribe status for left-out communities in Sikkim Legislative Assembly session tomorrow.
A SKM press release informs, the Chief Minister, during a meeting at Mintokgang today, said the Cabinet has approved the proposal after vetting by Law department and a resolution to this issue will be tabled in the Assembly on Monday.
The resolution seeks to put in the Centre's court the issue of extending tribal status to Thami, Bahun-Chettri (Khas), Sanyasi (Jogi), Newar, Kirat Khambu Rai, Kirat-Dewan, Sunuwar, Gurung, Mangar, Bhujel and Majhi communities. The Majhi community was recently added to the list.
Golay said that his government had promised inclusion of the left-out communities in its election manifesto.
"We are sincere on our poll promise and we will table the resolution in the Assembly tomorrow," he said.
Golay said the previous SDF government did not pursue the matter vigorously to get ST status for the left-out communities.
Golay had convened a preparatory meeting with SKM legislatures and advisors at his Mintokgang residence on Sunday to chalk out a strategy to be adopted to get the resolution passed.
After the resolution is passed in the Assembly, a high-level team comprising MLAs of all political parties and representatives of the left-out communities will visit Delhi and hold talks with the Central government, Golay added.