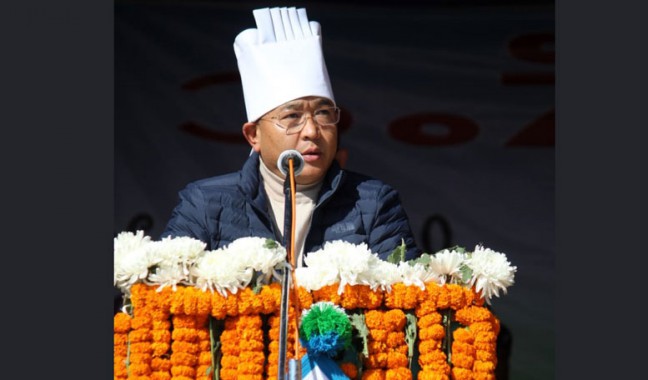 Wednesday, Jan 15, 2020 14:25 [IST]
Last Update: Wednesday, Jan 15, 2020 08:41 [IST]
Govt to trim Saturday holidays, casual workers of 8 years in service to be regularised
KUSH HANG LEEWANG
Only second and last Saturdays to be govt holidays: CM
GEYZING: Chief Minister P.S. Golay on Tuesday announced that only the second and last Saturdays of a month will be government holidays henceforth in Sikkim as some government employees were taking undue advantage.
Since last June after formation of the SKM government, all Saturdays had been declared as government holidays wherein the government employees were enjoying two days (Sunday including) in a week as holidays.
"The State government has decided to withdraw the system of all Saturdays as holidays. Some government employees were found utilising the facility given in form of government holidays to gain unwanted advantages. Only two Saturdays, the second and last of a month, would be holidays," announced the Chief Minister.
Golay was addressing the gathering at Limboo New Year festival 'Kokphekwa Tongnam' organised by the Limboo community at Lingchom, West Sikkim.
The Chief Minister maintained that the Limboo community of Sikkim was 'betrayed' by the former SDF government and accused the Pawan Chamling-led SDF government of doing 'rampant corruption' in the Sirjunga statue construction project at Hee Goan, West Sikkim. The inauguration of the incomplete statue project by the SDF government was done just before the election in haste to appease Limboo community for votes, he said. He committed to complete the statue project through the SKM government.
The Chief Minister further announced that the harvest festival of Limboo community 'Chasok Tongnam' would be declared as a gazetted holiday soon.
In his address, the Chief Minister announced that the State government would regularise the services of casual government employees who have completed eight years of service as on December 31, 2019. He accused the previous SDF government of mistreating MR and adhoc employees. Such employees would not have to wait in queue to clear their files under the SKM government, he said.
Festival organising committee president Purna Bir Limboo informed that 'Kokphekwa Tongnam' marks the beginning of a new year according to Limboo calendar. He expressed that the festival was organized to keep alive the age old tradition of celebrating New Year in the form 'Kokphekwa Tongnam'.