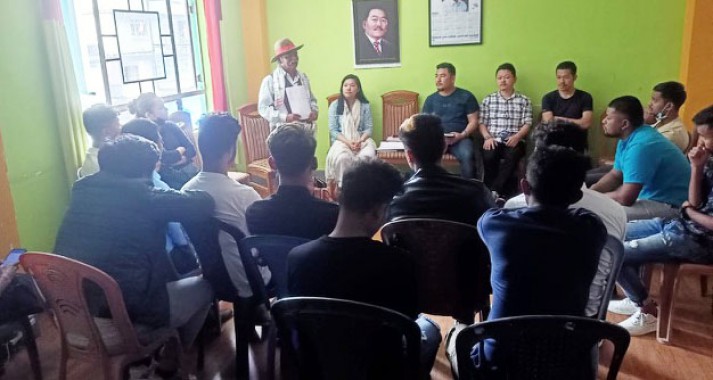 Sunday, May 08, 2022 08:15 [IST]
Last Update: Sunday, May 08, 2022 02:40 [IST]
Govt's misplaced priorities severely disadvantaged students during Covid: Komal Chamling
GANGTOK,: The SDF students' front on Saturday held a coordination meeting of its East Sikkim functionaries at SDF headquarters here.
A SDF press release informs that the meeting was held to select district and constituency-level convenors of the frontal organisation, to hear the grievances of the students of east district and to build awareness on the current political issues of the State that are relevant to the student body of Sikkim. The meeting was chaired by K.N. Pradhan, coordinator, SDF Students' Front, Chujachen.
The meeting was opened by SDF students' front general secretary Suraj Khaling who welcomed the attendees and set the agenda for the meeting. Discussions then took place with the students who raised various issues pertaining to colleges of East Sikkim, especially Rhenock college, a prominent issue one of which was the shortage of water in the college, the release mentions.
In her address, SDF students' front in-charge Komal Chamling spoke on the ideology of the SDF party, "as well as the educational and economic mismanagement during the SKM government, in particular the misplaced priorities of the government which has severely disadvantaged students during Covid-19." She also spoke on the dubious backgrounds of the new universities that have been brought into Sikkim, the release mentions.
SDF students' front general secretary Ram Gurung explained the implications of the various new laws that have been implemented in Sikkim including the Citizenship Amendment Act (2019) and One Nation One Ration Card (ONORC) and how the unique identity of Sikkim as protected by Article 371F has been "compromised under the SKM government."
SDF students' front secretary Urvashi Khaling gave a motivational address on the importance of participation of the youth in politics and the need for young people to be solution oriented.
K.N. Pradhan, who chaired the meeting, raised various issues pertaining to the education system from the lack of an organized textbook distribution system, the disadvantages of a no-detention policy and the need of a State School Board, to name a few. He urged the students' front functionaries to set up a system, structure, and process to smoothen the functioning of the organization.
The names of candidates for the post of east district and constituency vice convenors of the front were proposed and passed by the coordination meeting. The meeting was closed with a reiteration by those present to build political awareness amongst the student body and to find solutions for issues facing the students, the release mentions.