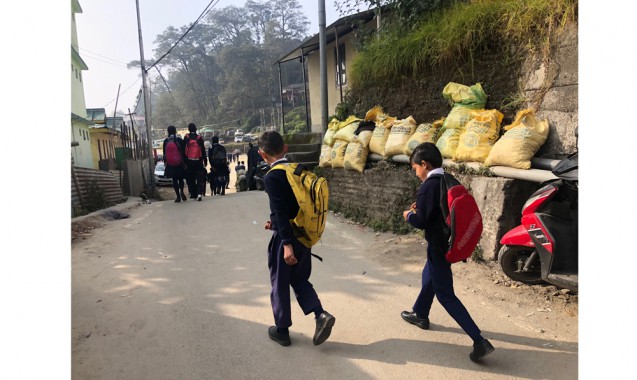 Friday, Oct 16, 2020 11:00 [IST]
Last Update: Friday, Oct 16, 2020 05:23 [IST]
Graded reopening of Sikkim schools from Oct 19, no winter break
SE Report
GANGTOK: The State Education department has decided to reopen all schools in Sikkim from October 19 in a graded manner without winter holidays.
A calendar has been prepared by the department where various activities like formation of groups, compiling of contact details of parents/guardians, informing groups about SOPs and other arrangement like hand washing and cleanliness have been assigned to the district heads and schools heads to be completed before opening of the schools from October 19.
According to an official statement on Thursday,students of classes IX to XII will continue to attend schools on voluntary basis and with written permission of the parents/guardian. Classes VI to VIII will resume with students attending only on voluntary basis with the consent of their parents from November 2. Further, primary classes (Classes III to V) could be started from November 23 subject to Covid-19 pandemic situation prevailing at that time, said the Education department.
This decision has been taken in view of the instructions issued by the Union Home Ministry to open the schools in a graded manner after October 15.
Relevant SOPs of the Union Education and Health ministries and the SOPs prepared by the State Education department will be the basic guidelines while conducting the activities in schools after the reopening in graded manner. All schools have been directed to follow these guidelines strictly.
The winter holidays have been done away with completely and classes will function on all working days and half days on Saturdays (remaining half of Saturdays to be kept for cleaning etc). Further, all the notified government holidays will be observed by the schools.
It was informed that government schools in the State have already been functioning since September 21 with 50 per cent of the teaching and non-teaching staff members attending the workplace and students from classes IX to XII attending on a voluntary basis.
Subsequent to the permission of the Centregovernment for the States to open the schools from October 15, with 100 per cent teaching and non-teaching staff attending and students of classes IX to XII attending on a voluntary basis, the Ministry of Education has also issued SOPs (Standard Operating Procedures) for the safety and wellbeing of the students and staff members.
The next academic session which was supposed to begin on February 2, 2021, will now begin on February 15, 2021. The current academic session shall end on February 13, 2021.
The department has also circulated the guidelines for reopening of hostels for all management (government and non-government) establishments maintaining hostels in the State, the release mentions.