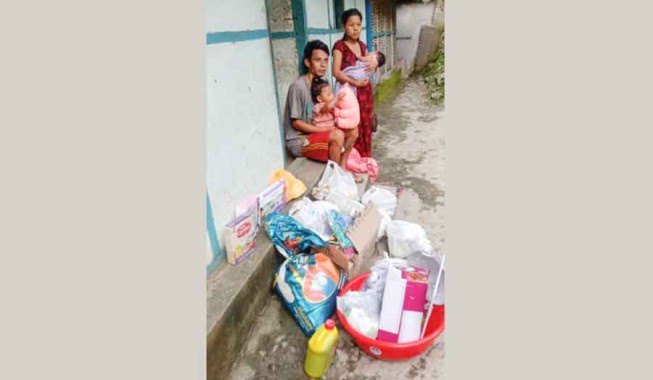 Saturday, Aug 08, 2020 14:00 [IST]
Last Update: Saturday, Aug 08, 2020 08:27 [IST]
Great Mates helps two families rendered homeless by swollen Rangit
SE Report
GANGTOK: Members of Jorethang NGO Great Mates today met two families at Piplay, West Sikkim whose houses were washed away by the swollen river Rangit recently.
The two families had lost all their belongings and livestock when the overflowing Rangitripped apart everything along its route on August 5.
The two families are presently taking shelter in their neighbours' houses.
Sonam Tamangand wife Savitri Tamang, who are daily wage earners, lost everything in the floodwaters and are in a state of shock.
Likewise, Pritam Tamang and his wife Anzila Tamang had to fleefrom their home with their baby of 20 days leaving everything behind before their house was claimed by the river.
"As soon as we came to know about them, our team visited them with crucial commodities, including clothes for everyone along with nutritious food and other crucial materials for the new born and the mother who needs best care at this point of time. Furthermore, we provided them with utensils and rations which will last for a month," the NGO said.
The NGO requested the concerned authorities to expedite relief and necessary support to the two families.