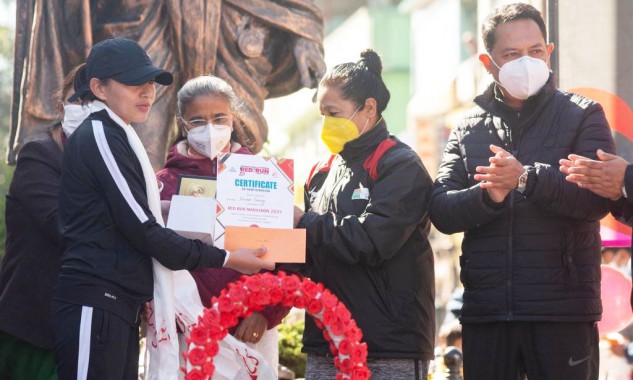 Thursday, Dec 02, 2021 08:30 [IST]
Last Update: Thursday, Dec 02, 2021 02:52 [IST]
Half marathon held on AIDS Day
KUNAL RAI
GANGTOK,: Sikkim State AIDS control Society in collaboration with Service to Mankind NGO organised 21-km Red Run half marathon, 10-km 'We Care' run, 10-km Solidarity Run and a walkathon today on the occasion of World AIDS Day.
The celebration was chaired by Dronacharya awardee Sandhya Gurung as the chief guest and attended by SSACS project director in-charge Dr. P.K. Basnett and other officials.
The 21-km half marathon was open for men and women, while 10-km 'We Care' was for boys and girls aged 13-17 years and 10-km Solidarity Run for the officials and staff of SSACS.
The 5-km walkathon was participated by NGOs, rehabilitation centres, Recovering Users Network, and different organisations.
More than 200 runners participated in the running events with the half marathon attracting runners from Kolkata, Kalimpong, Darjeeling and Dooars. Anjali Subba won the women's category, while Bikash Bhujel from Kalimpong was fastest among the men. The first, second and third in both men's and women's category were awarded cash prize of Rs. 25,000, Rs. 15,000 and Rs. 10,000 respectively along with mementos and certificates.
The 10-km run had cash prize of Rs. 10,000, Rs. 7000 and Rs. 5000.
Celebrating Aazadi ka Amrit Mahotsav, the SSACS had organised various competitive events and the winners were awarded with cash award and certificates from the hands of Sandhya Gurung.
The event also had cultural shows, storytelling session and signature campaign.