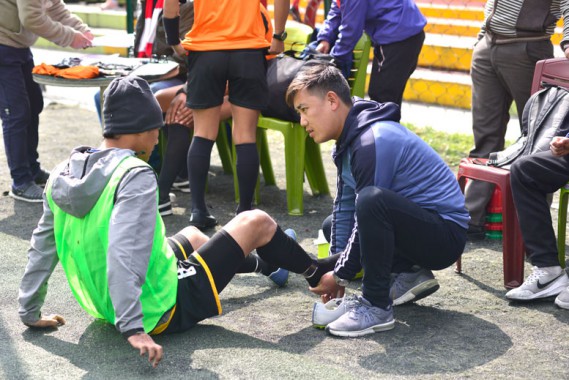 Monday, Feb 10, 2020 13:45 [IST]
Last Update: Monday, Feb 10, 2020 08:10 [IST]
Happy with the experience gained: Physio Tseten Namgyal
Staff Reporter
GANGTOK: A high contact sports like football inevitably punishes a player, especially those who are less fit, with injuries in the field. Same can be seen in the Paljor Stadium on weekends during the inter-departmental football tournament where players suffer from muscle tear and muscle fatigue.
Rushing to the pitch every time a player is hacked down is 25-year-old physiotherapist Tseten Namgyal Bhutia to attend to the injured player. He is the official physiotherapist roped in by Boys Club, Gangtok who organise the annual inter-departmental football tournament.
Most of the injuries are muscle tear or muscle fatigue, said Tseten in conversation with SIKKIM EXPRESS. He points out that these injuries are common in football if the player has less physical fitness levels or fails to do proper warm up exercises before entering the ground.
Tseten has also performed his duties during 2019 Governor's Gold Cup and the inter-constituency football tournament held last month. This was a huge experience and learning process for him having just finished his physiotherapy studies in 2018.
Tseten hails from 7th Mile, Kalimpong and did his physiotherapy studies from Dr. M.V. Shetty College of Physiotherapy, Mangalore in 2018. The next year, he was in Gangtok running his private clinic here at Hospital Dara.
Tseten shares he wanted to work for some years in his own region for two main reasons. My parents are here and I wanted to gain some experience before working elsewhere, he said. I came to Sikkim because I can see scope for my chosen profession as people here know the importance of a physiotherapist to treat their injuries or physical problems, he said.
I am happy with the experience I gained in one year and in future, I want to work in national-level sports tournaments, said Tseten.