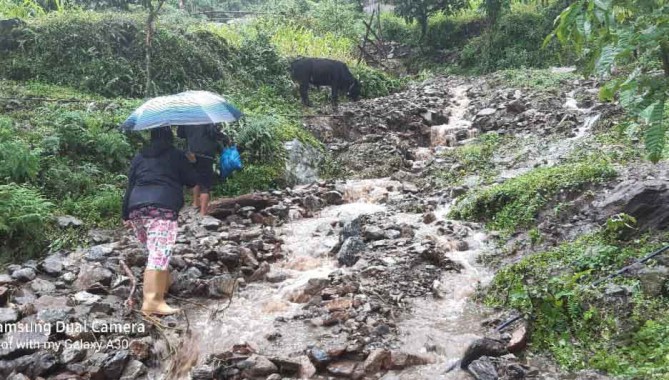 Tuesday, Jun 30, 2020 13:00 [IST]
Last Update: Tuesday, Jun 30, 2020 07:18 [IST]
Heavy rainfall forecast in Sikkim and North Bengal
SE Report
GANGTOK: Intense rainfall is likely to occur across Sikkim, especially in north and east districts, from July 1, the Gangtok Met office has said.
"We are expecting heavy to very heavy rainfall activities especially over north and east districts of Sikkim reaching peak on July 2 and July 3," said Gangtok Met director G.N. Raha today.
Heavy rainfalls in the past few days have triggered multiple slides in west and north districts of Sikkim. The worst-affected area is Dzongu which is cut-off from rest of the State.
Sikkim today saw a lull in the rainfall and it is expected to continue tomorrow also. However, intense rains are likely to resume from July 1.
Similarly weather forecast has been made for Darjeeling, Kalimpong and five other districts of North Bengal.
An IANS report mentions that North Bengal is likely to witness heavy to extremely heavy rainfall in the next six days disrupting normal life.
Meanwhile, heavy spells of rain-triggered landslides in Darjeeling district cutting off the main link road between Rimbik and Lodhama region in the hills. The incident took place on Sunday evening with a large part of the link road getting completely blocked due to the landslide.
The NH 55 which connects Darjeeling and Kurseong with Siliguri was also closed for traffic following a major landslide at Paglajhora, about 11 km away from Kurseong town today. This route is not much used as vehicles prefer to take the alternative routes of Rohini and Pankhabari to reach Siliguri.