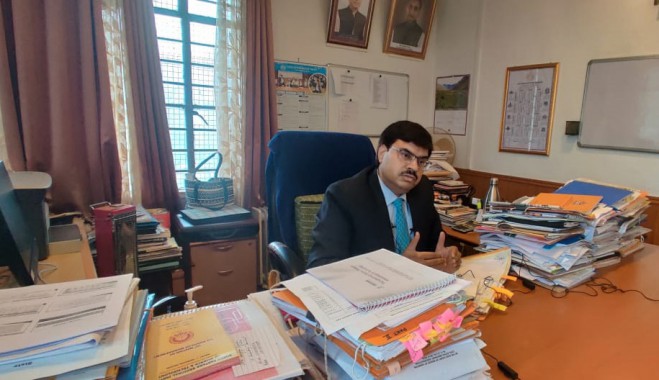 Sunday, May 31, 2020 15:15 [IST]
Last Update: Sunday, May 31, 2020 09:41 [IST]
Higher educational institutions to resume from July 1
Faculty to report from June 15 for preparatory works
ISABELLA GURUNG
GANGTOK: Educational institutions from class 9 and above in Sikkim will resume only from July 1 but maintenance and preparation works are starting from June 15.
Earlier, the State government had announced that universities, colleges and schools (classes 9 to 12) would resume from June 15. A high-level meeting on Saturday chaired by Chief Minister P.S. Golay decided that normal classes can restart only from July 1.
Speaking with SIKKIM EXPRESS, Education additional chief secretary G.P. Upadhyaya said: "The Education department had received many suggestions and requests from various students' bodies and the general public on not reopening the educational institutions on June 15, but to wait for a few more days. Precautions need to be taken and Covid-19 needs to be contained like we have been able to do it so far."
The State government accepted the suggestions and it was decided to have normal classes starting from July 1. However, the schools and colleges would open from June 15 but only for heads of the institutions and faculty members to prepare their institutions for July 1 reopening.
"We need to prepare the schools as it is almost three months that the educational institutions have been closed. The school premises need to be cleaned and made functional. The classes will be divided into two-three groups, and washing stations, water supply, sanitation, electricity etc. need to be checkedas due to the prolonged closure, things might get outoforder. Also, some of the schools are being used as quarantine centres. They will be handed back to us by the district authorities. The quarantines centres need to be sanitized and cleaned and make sure that they are absolutely safe for our children. So, the students will join the institutions only on July 1, but the schools will open earlier for preparation," said Upadhyaya.
Draft SOPs have been prepared and has been placed for government approval.
"The SOPs focus on sanitization, wearing masks, social distancing, dividing classes into two-three groups depending upon the number of children, duty of teachers accordingly, etc. A strategy for children who have been deprived of online classes because of internet connectivity issues has to be made. For all these issues, a staff meeting is required, as the heads and faculty have not been able to meet post-lockdown. It is a good decision taken by the State government and we will sure that on July 1, we are absolutely ready to receive the children," shared the additional chief secretary.
No morning assemblies and events that involve mass gathering will be held, it was informed.
After the announcement of CBSE to conduct examinations on July 1, the Education department had requested CBSE and ICSE to hold the board examinations for students outside the State in their respective State itself.
Regarding this, Upadhyaya informed that CBSE and ICSE have accepted the request and board exams will be held in respective States where the student is based.
"Because of our persuasion, CBSE and ICSE have accepted the request to conduct examinations in the respective States. Students from Sikkim will have examination centres in their respective districts. The Education department will prepare the centre venues," he added.
Meanwhile, the annual examinations of schools will be held in February, next year. Winter vacations will be shortened or cancelled so that syllabus will be completed, it was informed.
The State government has also considered the problems of private schools, and they too will reopen on July 1. Considering their demands on the losses, no decision has been taken but the decisions will be taken in future. The additional chief secretary urged the private schools to follow the SOPs that will be issued by the State government. He also urged the private schools to maintain the safety of students at the highest level.
"Everything is challenging at the moment but I would urge the educational institutions to work together and maintain social distancing," expressed Upadhyaya.