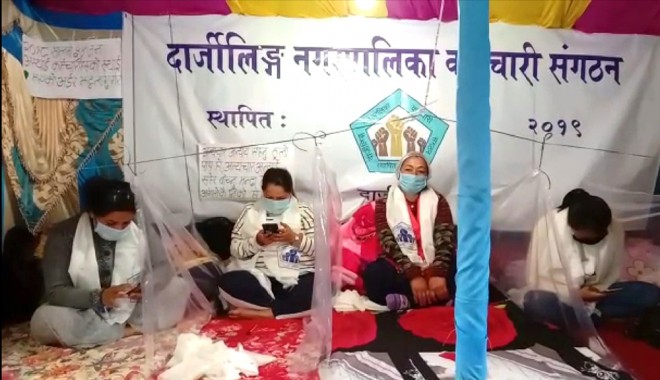 Tuesday, Sep 15, 2020 13:15 [IST]
Last Update: Tuesday, Sep 15, 2020 07:31 [IST]
Hill civic staff launch relay hunger strike
Our Correspondent
DARJEELING: Darjeeling municipality employees under the TMC (Hills) affiliated Darjeeling NagarpalikaKarmachariSangathan (DNKS) today started a relay hunger strike to press for several demands.
The DNKSwhich has been holding gate meetings and pen down strike for their demands recently started the hunger strike as part of the second phase of their movement.
DNKS assistant secretary Pranay Sharma said the relay hunger strike will continue till September 28and will have 5 people taking part in it with another group replacing them after 24 hours.
"We hope that before September 28, 60 percent of our demands will be met as from the next day we are closing down essential services of the civic body also," he said adding that services like electricity, water distribution and garbage collection would be disrupted.
The different demands raised by the DNKS include pending salary to be given of the year 2017 of 38 days and 60 days, pay band to be implemented along with increase in daily wages, a solution for died in harness case.Other demands are filling up of of vacant posts, group B,C and D workers casual workers in the municipality be regularised, starting of service book online system and increase the number of workers of the municipality from 539.
The DNKShas also threatened to launch a fast onto death if their demands are not met and are also planning to go to Kolkata to take up their issues with concerned authorities.