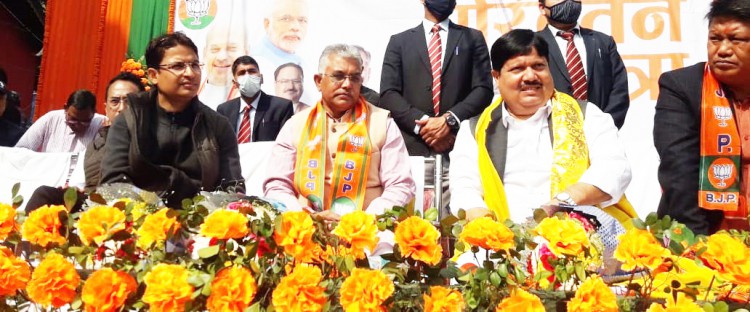 Wednesday, Feb 24, 2021 07:00 [IST]
Last Update: Wednesday, Feb 24, 2021 01:22 [IST]
Hills are with BJP: Ghosh
DARJEELING,: Black flags were displayed by GJM (Bimal Gurung camp) supporters at different places of the hills during the BJP's 'Parivartan Yatra' programme on Tuesday.
The BJP yatra held in alliance with the GNLF also saw a public meeting at Darjeeling Motor Stand here after which the rally headed out to Kurseong and Sonada.
"They have no work and doing this just to show their existence. The hills are with the BJP," said State BJP president Dilip Ghosh when asked about the black flags protest.
Ghosh alleged that Bimal Gurung has betrayed the people by teaming up with the TMC for the forthcoming Assembly elections. It was the TMC government that committed atrocities on the people here during the 2017 agitation, he said.
In his address at the Motor Stand public meeting, the State BJP president said: "We will try to fulfil your demands and dreams. You all have supported us and gave us MPs of our party over the years. We will take up your demand in Delhi and raise the matter in the Parliament."
Ghosh said a permanent solution would be given for the demands of the hills like tribal status. The hills are struggling with perennial problems like water scarcity, unemployment and closed tea gardens, he said. He accused the West Bengal government blocking the development of the hills and blamed Chief Minister Mamata Banerjee without naming her.
"The Centre has sanctioned funds for this place but it has not reached here with it being looted midway. Whenever any discussions come up for solutions for this area, she shuts it down. A tripartite meeting needs to take place but she does not come for the meeting. There is a need for a change here and if BJP government is in the State along with the Centre, there will be a direct connection," said the State BJP president.
In his address, GNLF president Mann Ghisingh said: "We have trust on BJP that the national party will do something for the hills. People want a permanent political solution to happen as soon as possible. The State government is also talking about the permanent political solution and they should tell us what it is. There should be changes or in the end it will only be similar to GTA which the people have already rejected."
Ghisingh said there should be a Constitutional guaranteed body in the hills to ensure the safety of Gorkhas and remove the 'foreigner' tag.