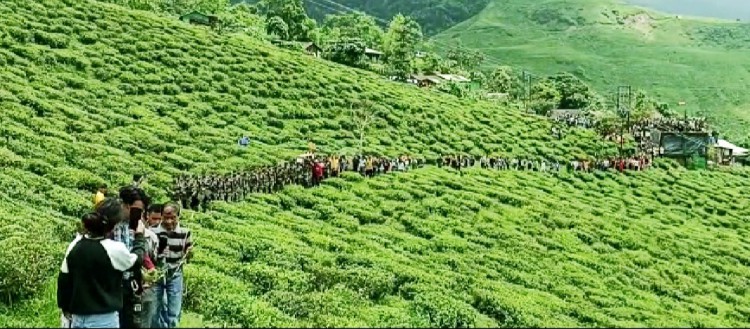 Monday, Jul 04, 2022 05:00 [IST]
Last Update: Sunday, Jul 03, 2022 23:20 [IST]
Hills bid tearful goodbye to Army bravehearts
DARJEELING,: A cloud of grief engulfed different parts of the hills here Sunday, as the last rites of eight Gorkha Rifles personnel who lost their lives in the landslide in Manipur, was performed with full military honours.
The mortal remains of nine army personnel from Darjeeling district, one from Jalpaiguri and one from Sikkim had been brought Saturday at Bengdubi, Siliguri from where they were taken to their respective places. They were all victims of athe massive landslide that occurred Thursday morning near Tupul Railway station in the Noney district of Manipur where the 107 Territorial Army had been deployed to protect the under-construction railway line from Jiribam to Imphal.
As search operation is on for other army personnel missing in the incident, three more bodies arrived at Bagdogra on Sunday and were taken to their respective residences.
Among those whose last rites were conducted today were Sitaram Rai of Rangbull, Lhadup Tamang of Magarjung in Mirik, Marcos Gurung of Singamari and Bhupen Rai of Happy Valley in Darjeeling. The funeral ceremony of Bidhan Chettri from Gauri Shankar Tea garden and Milan Tamang from Rohini at Kurseong along with Diwankar Thapa from Chungthung Tea Garden and Benjamin Rai from Teesta valley was also held today. The last rites of Bishal Chettri in Mirik were done Saturday itself.
The bravehearts were given a hero's farewell in their final journey by the people besides the full army honour bestowed on them. Homage was also paid to them by leaders from different political parties and officials including the police. Also seen were people lining up on the roads offering khadas as a final farewell.
Each braveheart had their own story to tell like Bidhan Rai who had celebrated his 39th birthday on Wednesday and died the next day with him being wished by everyone back home. On the other hand, Bhupen Rai, who also lost his life in the Manipur landslide, had a dream of his own to build a house which he was planning to do soon.