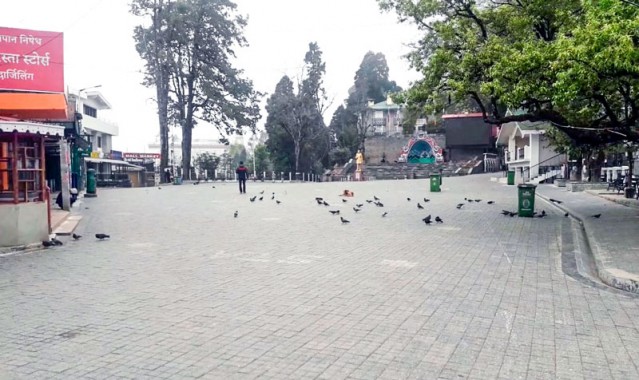 Monday, Mar 23, 2020 11:45 [IST]
Last Update: Monday, Mar 23, 2020 06:12 [IST]
Hills shut down to observe 'Janta Curfew'
Our Correspondent
DARJEELING: The hills remained closed on Sunday with people staying indoors to observe 'Janta Curfew' as appealed by Prime Minister Narendra Modi to ensure nation-wide social distancing for preventing spread of coronavirus.
Chowrasta, the most visited public place here, wore a deserted look right from the morning hours till evening. Chowk Bazaar, the business heart of the town, was empty with all shops closed. Roads were mostly empty with very few vehicles moving around.
Police personnel were deputed at various points to ask people to stay indoors and to check anti-social elements.
GTA chairman Anit Thapa, in a press statement, appealed to the transporters and hotel associations not to bring tourists to the hills. He warned strict actions if the tourists do not exit the hills by Monday.
As appealed by the Prime Minister, people here rang prayer bells, thumped utensils, blew conches and chanted from their balconies and road sides to express their gratitude to the Health workers and emergency services workers fighting against coronavirus across the nation.