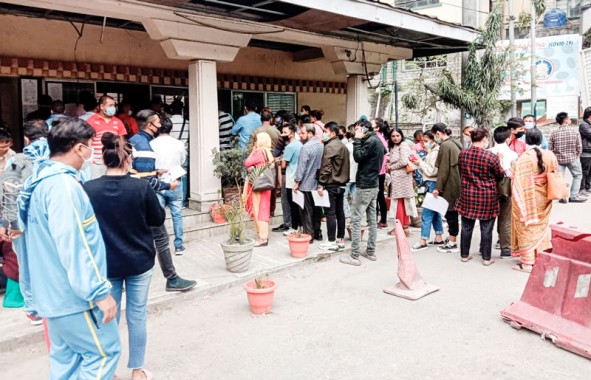 Tuesday, Mar 24, 2020 12:15 [IST]
Last Update: Tuesday, Mar 24, 2020 06:34 [IST]
Homecoming Sikkim students to be quarantined
SE Report
GANGTOK: With scores of students from Sikkim studying outside the State under CMMSS and Dr. Ambedkar Scholarship Scheme set to return home in the wake of COVID-19 outbreak and lockdown in several States, the State Education department has decided to send the homecoming students to Sikkim Cooperative Union (SICUN) hostel at Assam-Lingzey, about 15 km away from Gangtok, for quarantine.
Arrangement for bus service from Bagdogra airport to take them to SICUN at Assam-Lingzey has been made. At SICUN, they will be kept there in quarantine as per the instructions and guidelines required for quarantine in this case. Parents of such students have been requested to cooperate and see their children at the airport from a safe distance.
The step is taken as a preventive measure because the students are travelling through many places and stations. All arrangement for food, lodging and medical attention to the students will be made available at SICUN, a statement by Education department director Bhim Thatal informs.
The department has further requested Sikkimese students pursuing undergraduate and postgraduate courses in several other States to stay back wherever they are as travelling may cause infection. "We are in touch with their institutions and are requesting the management there for accommodation facilities to be made to them.
We are going through a troubled time, and patience and cooperation from every corner of the society will certainly help us contain the spread of this disease," said Thatal.
Our Rangpo correspondent reports that a large number of Sikkimese students studying outside the State today reached Sikkim. They underwent the mandatory screening and document checking at the Rangpo check post along with filing of self-declaration form.
With stringent restrictions on inter-State traffic movement, vehicles from other States were not allowed to enter Sikkim. Only trucks loaded with essential commodities were allowed entry after proper screening and sanitisation. Members from various social organisations have also volunteered to aid the government authorities at the check post.
Meanwhile, Sikkim registration vehicles going outside the State have been taking special permits from Rangpo. The issuing authority Duga BDO I.B. Chettri informed that the permit is being issued only for emergency purposes. By 3 pm today, at least 80 such special permits had been issued.