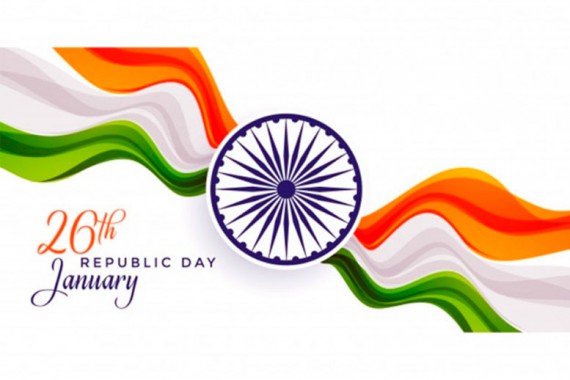 Monday, Jan 27, 2020 12:30 [IST]
Last Update: Monday, Jan 27, 2020 07:01 [IST]
India on 71st Republic Day
RAJU VERNEKAR
As we are set to celebrate 71 st Republic Day, the presence of Brazilian President Jair Bolsonaro as the chief guest at the R day function, assumes significance, since with his visit strategic partnership between both the countries is expected to be strengthened.
The invitation to Bolsonaro, was extended by Prime Minister Narendra Modi on the sidelines of the recent 11th BRICS Summit held in Brasilia, which he accepted with pleasure.
This year there will be 22 tableaux from 16 states/Union Territories and 6 Central ministries, rolling down the Rajpath in New Delhi, at the grand R day parade. The float of the National Disaster Relief Force (NDRF), raised in 2006 for relief and rescue during natural and man-made disasters, will be the special attraction. Bravery medals and national awards will be given by the President of India Ramnath Kovind. A spectacular march past by the Indian armed and paramilitary forces will be the focus of attention.
People celebrate Republic Day, with a lot of zeal and enthusiasm across the country, as on this day, the Constitution of India came into effect in 1950. It is important to take stock of the different aspects of economy and social conditions prevailing in the country on this day.
Economic slow down
The country is facing economic slowdown. Although Prime Minister Narendra Modi aims for a 5 trillion dollar economy by 2024, the task seems to be difficult. As per the Government statistics, India's economy is expected to grow at 5% (as against earlier forecast of 6.1 per cent), but experts including former Union Finance P Chidambaram have termed the claim as "exaggerated". GDP came down to 4.5 per cent in quarter II of 2019-2020 (against 5 per cent in quarter I of 2019-2020).
Inflation
The National Statistical Office (NSO), has stated that the Consumer Price Inflation (CPI) spiked to 7.35 per cent (from earlier 5.54 per cent) in December, triggering further growth concerns. The retail inflation is the highest witnessed since July 2014 and the real worry for the RBI and government is the rate of food (vegetable) inflation, which was the key trigger behind the steep rise in inflation in December 2019.
Disinvestment in PSUs
The government is in the process of massive disinvestment in public sector undertakings (PSUs) and many PSUs-Air India (debt burden of Rs 80,000 crore), BPCL (Govt's share 53.29 percent), SCI (63.75 percent),Container Corporation of India Ltd.(30.8 percent), Tehri Hydro Development Corporation India Ltd. (Rishikesh, Uttarakhand) (75 per cent), North Eastern Electric Power Corporation Ltd (NEEPCO), Meghalaya (100 per cent) and NTPC Ltd.( the government's stake 63 per cent) are on the disinvestment list.
Heavy demand from oil companies
With a view to shore up its finances, the Union finance ministry has demanded that oil companies should maintain or increase the dividend payout this year and has sought a record Rs 19,000 crore in dividend from state oil companies, about 5% more than last year. The Government has asked ONGC to pay a dividend of Rs 6,500 crore, Indian Oil Corporation- Rs 5,500 crore, BPCL- 2,500 crore, GAIL-Rs 2,000 crore, Oil India Limited-Rs 1,500 crore and Engineers India-Rs.1000 crore.
US- Iran Strife
The escalation in the tension between the US and Iran can have implications on India's exports to the Persian Gulf nations, according to the Federation of Indian Exporters' Association (FIEO). India's exports to Iran in 2018-19 were worth $3.51 billion and the imports were valued at $13.52 billion. The rupee kitty with Iran, through which the payments to Indian exporters are made, is fast depleting and unless an alternate mechanism is put in place, the Rupee-Rial trade can come to a grinding halt, with payment of Indian exporters getting blocked.
FDI
The FDI norms in single-brand retail trading, contract manufacturing, coal mining, and digital media have already been relaxed and the government has been working on a plan to bring in $100 billion FDI this year.
Indian Rupee
Amid this, Indian rupee which went through bouts of volatility, has been hovering around 72 against US dollar, spooked by a surge in global oil prices. A surge in crude prices has raised the spectre of a higher import bill for India.
Investment in infra sector
The Government has also announced a plan to invest Rs.102 lakh crore in the infrastructure sector in the next 5 years to achieve the GDP target of $5 trillion by 2024-25. Some of the sectors are: NIP projects covering expressways, national gas grid and PMAY-G (Rs 42 lakh crore), energy (Rs. 24.54 lakh crore), Road projects (Rs. 19.63 lakh crore), Suburban infrastructure (Rs. 16.29 lakh crore) and railway projects (Rs. 13.68 lakh crore). Although the investment will be shared by state governments, the plan is going to put enormous burden on the exchequer.
Poverty
Nearly 25 states and Union Territories have been facing poverty and income inequality and every fifth Indian is below the poverty line (BPL), states the Sustainable Development Goals (SDG) Index 2019-20 recently released by NITI Ayog. The index, aimed at measuring performance vis-a-vis the United Nations-mandated SDG goals, was prepared after a survey in 640 districts. At present 21 per cent of the population is under BPL and the Government's target is to bring it down to 10.95 per cent. But only six states have shown some improvement and other states are lagging behind.
Population
The population of India is estimated at 1,368,938,792 (equivalent to 17.74 per cent of the total world population) and India ranks second in terms of population in the world. 33.6 per cent population is urban (460,249,853) and remaining population is settled in rural areas. The population comprises 70,71,26,717 (51.6 per cent) male and 66,24,07,581 (48.4 per cent) women population. India is expected to add nearly 273 million people between 2020 and 2050.
Health
The health care sector remains neglected going by the recent death of 107 infants in Kota's (Rajasthan) "JK Lon Hospital" within a month. Besides, a total of 146 children died in "Umaid" and "MDM hospitals" in Jodhpur in December. Sixty per cent of primary health centres (PHC) in India have only one doctor and only 20 per cent of the PHCs fulfil Indian public health standard norms.
Food grains
Average yields of most crops in India are still rather low. Amid low income growth scenario, demand for food grains, is projected at the level of 256 MT this year. It comprises 112 MT of rice, 82 MT of wheat, 39 MT of coarse grains and 22 MT of pulses.
Literacy
The overall literacy rate in Urban India is 79.5 per cent ( 74.8 per cent women, 83.7 per cent men). It is 64.7 per cent in rural India (56.8 per cent women, 72.3 per cent men). The low female literacy rate has a dramatically negative impact on family planning and population stabilisation efforts.
Unemployment
Unemployment rate increased to 8.50 percent in October from 7.20 percent in September 2019. The rate averaged 5.16 per cent from 1983 onwards, reaching an all time high of 8.50 percent in October of 2019 and a record low of 3.53 percent in December 2011. As per the latest Periodic Labour Force Survey (PLFS) released by the National Statistical Organisation (NSO), Kerala and Jammu and Kashmir have the highest rate of joblessness, while Gujarat and Karnataka have the least joblessness.
Space Technology
In the meanwhile ISRO, which has already made significant progress, is planning to send three astronauts to space for seven days by 2022, under " Gaganyaan Mission", the indigenous human spaceflight programme.
India is expected to become one of the most powerful countries in the time to come. Let us hope that India becomes super power by 2030.