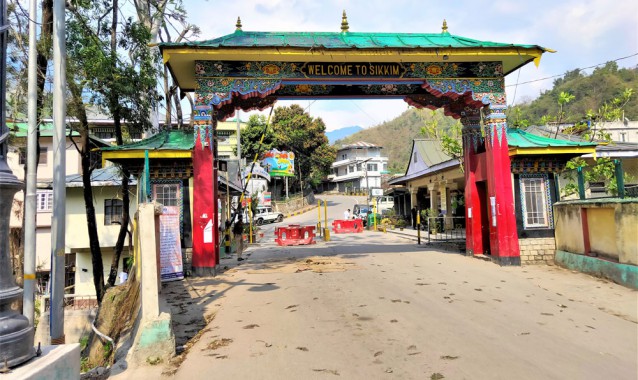 Monday, Mar 23, 2020 11:45 [IST]
Last Update: Monday, Mar 23, 2020 06:15 [IST]
JANTA CURFEW IN SIKKIM AGAINST COVID-19
People stay indoors, thumping thanks to frontline warriors
SE Report
GANGTOK: Almost the entire population of Sikkim, barring those on essential duties, remained indoors on Sunday from dawn to late evening while observing 'Janta Curfew'. The self-imposed home isolation was done by the over 7 lakh population of the State in response to the nation-wide 'Janta Curfew' appeal made by Prime Minister Narendra Modi to prevent spread of coronavirus.
East Sikkim, the most populous district of the State, saw very few people outdoors as entire families huddled indoors. Gangtok, the State capital town, was deserted as everything remained shut. The roads and streets were devoid of vehicles expect those on emergency duties.
Right at 5 pm and as appealed by the Prime Minister, many people came to their balconies and windows to applaud the relentless services provided by the Health personnel, police and others engaged in fighting the spread of coronavirus. They banged utensils, clapped hands and blew conches as a respect and gratitude to the frontline workers.
SOUTH SIKKIM
Residents of Namchi remained indoors and shops remained closed throughout Sunday as part of the nationwide Janta Curfew observance to contain the spread of COVID-19.
The south district administration had already passed prohibitory orders to minimise the transmission with directives to be strictly followed and observed today. The district witnessed complete ban on movement of vehicles except vehicles on emergency duty and other vehicles for providing essential services like milk. All hotels, restaurants, bars and shops in the district remained closed including all industries, manufacturing plants, private companies and power developers. Public and private transport remained shut with closed counters of taxi stands and the market places were completely closed with no traffic on roads.
Public places like Central Park were empty while Sunday schools like Bal Vikas and Sunday prayer services in churches were also cancelled supporting the nationwide self-imposed 'Janta Curfew'.
Sunday being the weekly haat day, Namchi used to witness maximum rural populace coming to sell their farm produce.
Other than south district headquarters Namchi, towns like Jorethang, Melli, Namthang, Rabongla and even Temi were completely shut down with only police patrolling personnel on duty.
RANGPO
Very few vehicles and that too, only on emergency services, crossed the Rangpo checkpost, the main entry-exit point of Sikkim on Sunday during the 'Janta Curfew'.
On an average, more than 2500 vehicles enter-exit through Rangpo checkpost daily. On Sunday, the number of vehicles was less than 25. No business establishments and industrial units in Rangpo subdivision were open.
Rangpo PHC medical in-charge Dr. Manoj Mishra said screening of people entering Sikkim is going on rigorously on a daily basis. No single positive coronavirus case has been found till today but everyone should be serious on the matter by taking all preventive measures, he said.
So far, about 3.81 lakh people passing through Rangpo checkpost have been screened by the Health workers, informed Dr. Mishra.
Meanwhile, there would be restrictions on movement of vehicles in Sikkim starting Monday. Private and State government vehicles are allowed to cross the Rangpo and Melli checkposts only on 'emergency purposes' after availing requisite pass from the SDM and BDO of their respective area.
For Rangpo region, Duga BDO I.B. Chettri has been appointed as the permit issuing authority.
Similarly, the movement of all taxis and private vehicles inside the State of Sikkim is to be regulated by allowing only odd and even vehicles to ply on alternate days. On Monday, only odd numbered vehicles will be allowed and on Tuesday, only even numbered vehicles will be allowed to ply. This arrangement as a preventive measure against coronavirus will continue till April 15.
WEST SIKKIM
Shops and eateries were closed, and vehicles remained off the roads as West Sikkim joined the nationwide 'Janta Curfew' in the wake of the coronavirus pandemic.
The people, supporting the initiative, did not venture out of their homes and maintained self-isolation. All the shops and business establishments remained completely shut in district headquarter of Geyzing and movement of people around the town was strictly monitored and restricted by the police personnel.
The town appeared desolate, empty and peaceful as people preferred to keep themselves confined to their respective homes.
Similarly, other towns of west district such as Dentam, Bermiok, Soreng, Sombaria, Daramdin, Mangalbaria, Legship and Darap were also shut down in support of 'Janta Curfew'. The people were found stocking the essential items from the market on Saturday.
"The people's support to the cause reflects their consciousness on dangerous consequences of COVID-19.

We cannot remain ignorant," a person said.