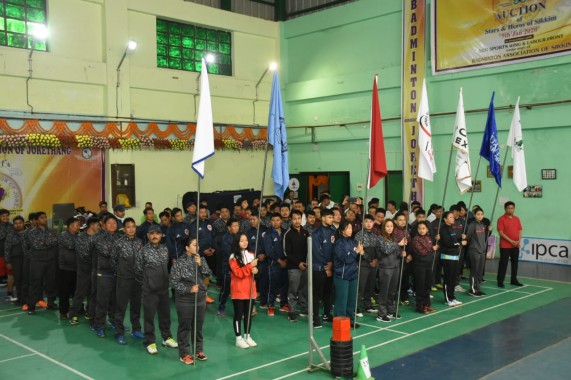 Sunday, Feb 16, 2020 12:30 [IST]
Last Update: Sunday, Feb 16, 2020 06:50 [IST]
JPBL 2 starts at Jorethang NAMO DIXIT
NAMCHI: The second edition of Jorethang Premier Badminton League (JBPL) started today at Jorethang,South Sikkim. The two-day tournament is organized by Badminton Association of Jorethang (BAJ) in association with SKM Sports Wing and Labour Front under the aegis of Badminton Association of Sikkim.
The State's first franchise-based sporting event has six teams, namely, Poklok Warriors, Dallam Express, David Warriors, Salghari Zoom Blockers, Red Panda GMTS and United Sikkim Shuttlers. Each team has 11 players - male and female -including veteran players picked from an auction held earlier.
Inaugurating the tournament, Agriculture minister Lok Nath Sharma wished good luck to all the teams, and appreciated the BAJ for organizing the franchise-based tournament to bring about the professionalism in sports. He also stated that the support of the State government and the Chief Minister towards sports reflect the government's interest and priority towards the development of games and sports in the State. In the same note, he encouraged shuttlers to continue with their game to reach the higher levels and urged people of the State to support and encourage local sportspersons.
Speaking to media persons, BAJ presidentJigmee Namgyal expressed that the success of the first edition of JPBL motivated them to come up with the second edition and thanked the State government for extending its support to the second edition. He added that there isa need of such format in other sports as well to promote professionalism in sports and to provide better platform to local players.
As many as 66 players are competing for their respective teams in the second edition of the JPBL. The tournament carries the cash prize of Rs. 2.5 lakh for the winner and Rs. 1.5 lakh for runners-up.
David Warriors co-owner Jacob Khaling thanked the organizing committee for creating a platform for local players to showcase their talent and to encourage them to take up sports as a career. "We are happy and excited to be a part of JPBL 2 and we want to encourage youths of Sikkim through our participation," he said.
Poklok Warriors shuttler Amol Rai, the most expensive player of the second edition, expressed that such format of the tournament is very beneficial for players. It motivates young players to take up badminton as a career, he said.