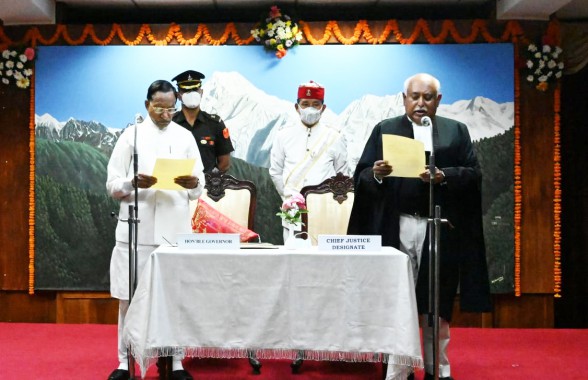 Wednesday, Oct 13, 2021 06:00 [IST]
Last Update: Wednesday, Oct 13, 2021 00:24 [IST]
Justice Biswanath Somadder takes oath as Sikkim's Chief Justice
GANGTOK,(IPR): Justice Biswanath Somadder was sworn in as the Chief Justice of High Court of Sikkim in a function held at Ashirwad Hall, Raj Bhawan here today.
Governor Ganga Prasad administered the oath of office to the Chief Justice designate.
The function saw the benign presence of the Chief Minister of Sikkim, Prem Singh Tamang, Judge, High Court of Sikkim, Justice Meenakshi M. Rai, Judge, High Court of Sikkim, Justice Bhaskar Raj Pradhan, Speaker, Sikkim Legislative Assembly, L. B. Das, Deputy Speaker, SLA, Sangay Lepcha, cabinet ministers, MLAs, heads of departments, dignitaries and guests from the judiciary, and other officials.
Justice Biswanath Somadder after taking the oath signed the solemn oath/ affirmation relating to his assumption of office which was duly attested by the Governor.
Earlier, chief secretary S.C. Gupta read out the notification and the warrant of appointment of Justice Biswanath Somadder.
After the swearing in, the Chief Justice was congratulated by the Governor, the Chief Minister and host of other invitees.
Justice Biswanath Somadder served as the Chief Justice of the High Court of Meghalaya before his transfer to the High Court of Sikkim.