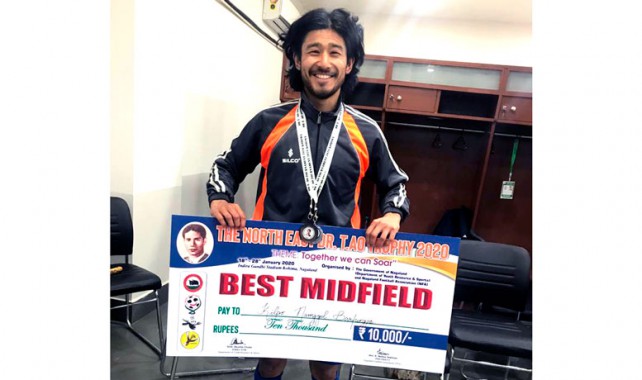 Friday, Feb 14, 2020 14:17 [IST]
Last Update: Friday, Feb 14, 2020 08:43 [IST]
Kilp Barfungpa makes his State debut count with runners up title, best midfielder award
BIJOY GURUNG
GANGTOK: It was a long overdue State appearance for Kilp Barfungpa but the skilful left winger made his debut count with a 'Best Midfielder' award in the recently concluded Dr. T. Ao Cup football tournament.
Kilp played a crucial role in the Dr. T. Ao Cup campaign of Sikkim in the Northeastern-level tournament held at Kohima, Nagaland from January 18 to 28. Sikkim returned home with the runners up trophy along with two individual awards – 'Best Midfielder' for Kilp and 'Best Goalkeeper' for Urgen Pintso Sherpa.
Kilp, 24 years, was playing for his home State for the first time.
"It was a good experience and I was representing my State for the first time. We had prepared in a proper manner for Dr. T. Ao Cup tournament. During the 15-day camp, the squad got to know each other well. We had tough matches but we stuck to our plans," said Kilp, a Gangtokian.
About the individual award, Kilp recalls that he was surprised to be named for the 'Best Midfielder' award. He usually plays in the left wing but for the Dr. T. Ao Cup tournament, he was pushed into the midfield.
"I felt honoured to receive the award because it was voted by the players and managers of other teams. I thank my teammates as without them, I would not have got this award," said Kilp. He shared that he was playing according to the plans laid down by Sikkim team coach Mayal Dok Lepcha.
It was the first major award for Kilp who has spent most of his playing years outside Sikkim. He started his youth football from Germany.
Kilp was in Koblenz, Germay for four years where he trained in the Tus Koblenz football academy for two years. He then played for the Tus Koblenz club u-19 and then one year with the reserve team of the club.
In 2014-15, Kilp returned home and soon joined Royal Wahingdoh, Shillong. He then played for Mohammedan SC and went next to Bhutan to play one season with Paro FC in 2018-19. Paro FC ended up as runners up of Bhutan League that season.
In Sikkim, Kilp has won the State level Independence Day football tournament 2019 with Sikkim Himalayan SC and the Sikkim Premier League in 2018 with United Sikkim FC.