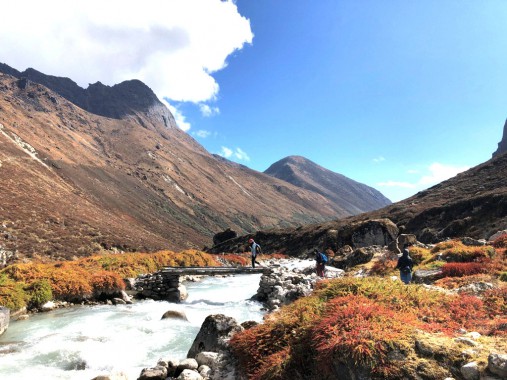 Wednesday, Sep 15, 2021 09:45 [IST]
Last Update: Wednesday, Sep 15, 2021 04:07 [IST]
KNP opens for trekkers, tourists with Covid protocols
PRITAM LAMA
YUKSAM,: Khangchendzonga National Park Park (KNP), famous for Dzongri-Goechela trekking in West Sikkim, is now open for tourists. Park officials said the visitors will have to follow the Covid-19 protocols strictly.
The UNESCO World Heritage site Khangchendzonga National Park (KNP) was opened for trekking and tourism activities as the Central and State governments removed restrictions in visiting national parks and zoos recently.
The Dzongri-Goechela trekking route starts from Yuksam.
The tourism activities in KNP were suspended on May 4.
Following Ministry of Environment's order for shutdown of all national parks and sanctuaries in the country due to the alarming spread of Covid cases, Sikkim government had closed down the KNP along with other sanctuaries from the first week of May this year.
Along with the KNP, Barsey Rhododendron Sanctuary, Chewabhanjyang on Indo-Nepal border and Singalila Range in West Sikkim are also open for hiking, trekking and other tourism related activities.
Meanwhile, only those stakeholders including tour operators, trekking guide, cook, porters, pack animals operators and tourist vehicle drivers who have been fully vaccinated are eligible to engage in trekking and tourism activities duly maintaining Covid-19 protocols and guidelines.
After the announcement of reopening of tourism activities inside Khangchendzonga National Park, KNP division under State Forest department convened a meeting with local tourism stakeholders and pack animal operators to oversee the conditions of trekking route and trekkers' huts inside the KNP.
Speaking to this correspondent, KNP Range Officer Tenzing W. Bhutia said, "Trekking trail inside the KNP is blocked at several stretches due to landslides during this monsoon. One large portion of trail has been washed away by the landslide at Nalung in-between Yuksam and Tshoka and it will take at least a week to restore the Dzongri-Goechela trekking trail."
The KNP division initiated the restoration work on Monday with the help of local pack animal operators.
Pregnant women, visitors below 10 years of age and those above 65 years of age with comorbidities are not allowed to enter the park. Complete vaccination and fresh RTPCR negative report is compulsory for the visitors to enter the KNP.