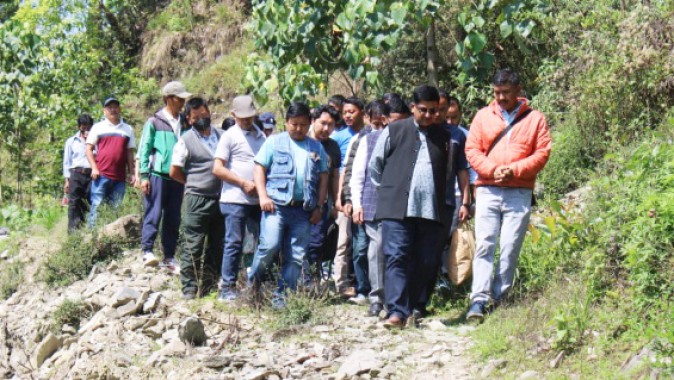 Tuesday, Apr 19, 2022 08:15 [IST]
Last Update: Tuesday, Apr 19, 2022 02:36 [IST]
Lack or road connectivity keeps Reythang isolated
KUSH HANG LEEWANG
GEYZING,: Agriculture minister and area MLA Lok Nath Sharma on Sunday inspected the unfinished fair weather road of Reythang, near Geyzing Bazaar under Geyzing-Bermiok constituency. He was accompanied by officials from Road & Bridges department.
The construction of the road connecting Reythang with other nearby places is in limbo since 2019 after a partial work. The construction of about one-kilometre stretch of road has been completed but the road remains inaccessible due to disturbances created by landslides at some points. The stretch of road is gradually being engulfed by thick jungle as no maintenance work has been done. It was informed that the tender for the two-kilometre road was done in 2019 and the work was to be completed in two phases. However one kilometre stretch of road still remains in shambles.
Minister Lok Nath Sharma, after inspecting the road, directed the concerned department officials to look into the matter with immediate effect. He sought that road be made accessible as earliest as possible for. Requesting the concerned contractor to facilitate road construction process, Sharma asserted that billing process would not get delayed.
Roads & Bridges additional engineer Om Prakash Gurung shared that one-kilometre stretch of road was accessible but obstacles created by natural forces at some points have disrupted the accessibility. He added that the concerned department is keen to initiate restoration work to ensure road connectivity to the locals. He further informed that after required phase clearance procedure it is possible to start the second phase of road construction work. Although the billing process sometimes gets delayed, the bill would be provided to the work executioner anyhow through the department, he added.
Reythang, though located in a close proximity to Geyzing town, still remains isolated as far as transport network is concerned. Due to lack of road, the people of Reythang have been facing numerous problems since many years as everything has to be portered.
The locals complain that lack of proper road connectivity comes as the biggest problem and disadvantage for the people as they have to deal with several problems that could have been eased out permanently with the availability of road connectivity.
Another local claimed that apart from transportation of goods to and from the market, taking patients to the hospital becomes one of the most challenging tasks as working through a steep pathways to reach the determined destination requires a great deal of strength and courage. "Sometime taking a patient on a stretcher to the hospital is not possible due to steepness of the pathways and we have to carry them on our back. Transportation of agricultural products to the town also becomes a laborious journey," he said.
Some locals informed that climbing up the steep pathways to Geyzing Bazaar from lower reaches of Reythang requires almost two hours of treacherous walk and going downhill to 4th Mile, near Legship consumes almost an hour.
It may be mentioned here that Reythang is well known for its vegetable cultivation and can be dubbed as a one of the most fertile regions. However, absence of road connectivity has taken its toll on transportation of vegetables.
The locals of Reythang still believe that road connectivity will be facilitated someday and they are hopeful that problems prevalent in the area due to lack of the road connectivity would cease.
Road connectivity is our urgent need and we are very much hopeful that the State government would look into our demand sincerely, they said.
Apart from problems pertaining to road connectivity, Reythang also faces drinking water problem especially during dry season as the water supply remains disrupted most of the time and the agricultural activities get halted due to lack of irrigational facilities. "We have drinking water problem during dry season and the irony is that most of the people in Reythang is involved in agriculture as a means of living", a local said.