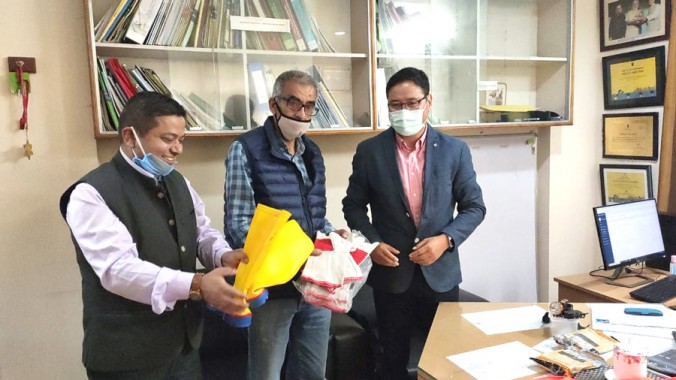 Thursday, May 21, 2020 15:00 [IST]
Last Update: Thursday, May 21, 2020 09:22 [IST]
Ladakhi Group presents safety gears for GMC beautifiers
KUNALRAI
GANGTOK: Philanthropist and businessmanUgen T. Ladakhi today presented safety gears comprising of rain-proof jackets, miner lights, gum boots and gloves for the Gangtok beautifiers working under the Gangtok Municipal Corporation (GMC).
UgenLadakhi, the managing director of Ladakhi Group of Companies, handed over the equipment to Mayor Shakti Singh Chaudhary and GMC commissioner Hem Kumar Chettri at the GMC office here today.
Speaking with SIKKIM EXPRESS, Ladakhi said the idea of extending safety gears was discussed with the GMC authorities before the Covid-19 lockdown. "We had planned to present the gears before the onset of this year's monsoon season but the delivery was delayed due to the lockdown. We recently received them and presented to the GMC authorities today," he added.
"I often used to see them initiating their work without proper safety gears and proposed the GMC of my idea of extending some help from our side which was accepted," he shared.
GMC commissioner Chettri thankedLadakhifor extending the support. He said the itemsreceived are of utmost importance with respect to safety of the beautifiers.He went on to mention that GMC has never compromised with respect to issuance of protective and safety gear to the beautifiers.
"We do provide them with all gears but some tend not to use them as they claim it hinders their work," Chettri added.
The handing over was also attended by additional chief town planner Gary Chopel,assistant municipal commissionerKarma W.Chankapa and other officials of the GMC.