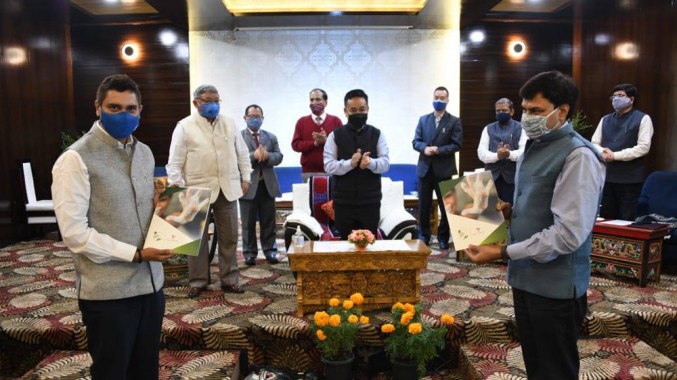 Wednesday, Oct 14, 2020 10:00 [IST]
Last Update: Wednesday, Oct 14, 2020 04:17 [IST]
Life skills programme for adolescent children launched
SE Report
GANGTOK: 'The Birds and Bees Talk', a unique life skills programme for adolescent children under the Reckitt Benckiser's flagship Dettol 'Banega Swasth India' in partnership with Primus partners, was launched at Samman Bhawan in the presence of Chief Minister P.S. Golay today.
A Letter of Intent (LoI) was signed between Education department additional chief secretary G.P. Upadhyaya and Ravi Bhatnagar, director (external affairs and partnerships, AMESA), Reckitt Benckiser, an IPR release informs.
Present on the occasion were Education minister Kunga Nima Lepcha, Health minister Dr. M.K. Sharma, chief secretary S.C. Gupta, Chief Minister's secretary S.D. Dhakal, senior government officials and others.
The Chief Minister expressed his happiness on being associated with the flagship programme Dettol 'Banega Swasth India' and added that the programme is one of its kind life skills training module for adolescent children. The programme will immensely benefit children which will increase knowledge and awareness about healthy life skill practices, he added.
The Chief Minister directed the heads of the educational institutions to sensitize the students on holistic curriculum and also on the Covid-19 pandemic. He added that one of the top most priorities of the State government is education and is the only way where empowerment of children can be achieved.
The Chief Minister hoped that the programme will go a long way in developing key skills in the students.
Education minister Kunga Nima Lepcha informed that the 'Birds and Bees Talk' is a unique and comprehensive programme for supporting and guiding the school-going children and will run for three years in the State.
In his address, Education department additional chief secretary G.P. Upadhyaya said the programme will be implemented in all schools across Sikkim to ensure maximum reach. It is a holistic kind of intervention where young minds will be guided through a unique and effective curriculum, he said.
In his opening note, Ravi Bhatnagar highlighted Reckitt Benckiser's vision and commitment in growing up life skills education in India. He informed that the 'Birds to Bees Talk' programme is a comprehensive growing life skills curriculum for 10-19 years old children which will provide accurate, fact based and age appropriate information that will help adolescents make informed choices.
He added that the curriculum is in alignment with the National Curriculum Framework and the recently announced National Education Policy 2020 as it follows the guiding principles of the Adolescence Education programme.
Earlier, Education secretary Anil Raj Rai presented the welcome address and vote of thanks was proposed by State Project Director (Samagra Siksha-cum-director, Elementary Education) Bhim Thatal, the IPR release mentions.