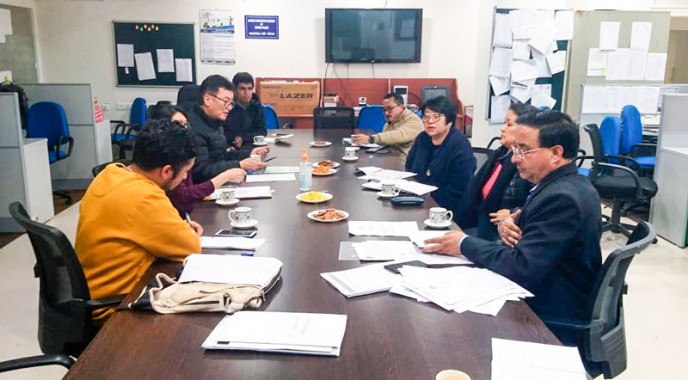 Sunday, Mar 29, 2020 14:30 [IST]
Last Update: Sunday, Mar 29, 2020 08:45 [IST]
Linkage between control rooms of SSDMA, Health proposed
PANKAJ DHUNGEL
GANGTOK: A special meeting was convened on Saturday between the Sikkim State Disaster Management Authority (SSDMA) and Health department on linking the control rooms amid coronavirus scare. The meeting was held at the SSDMA office in Tashiling Secretariat here.
Currently, SSDMA, Health department and Sikkim Police are the devoted departments and authorities to carry out control room functioning against coronavirus outbreak.
The meeting was chaired by SSDMA director Ganesh Chandra Khanal and attended by Health department officials led by principal director Dr. Zigmee Topgay, Dr. Y.D. Chankapa, the nodal officer, additional director Dr. T Palden and director (storekeeping) Dr. Pema Seden. They discussed elaborately on the need for linkage between all the control rooms as per the guidelines of National Disaster Management Authority Act (2005), currently implemented across the country.
In the meeting the officials delved on various issues ranging from the buffer stock on the essentials from PPEs, N95 masks, hand sanitizers, satellite phones, and multiple connections for helpline numbers (104), transportation of health materials consignment stuck in various States and Sikkim borders, to even the earmarked vehicle for transportation of samples to be sent outside of the State to testing labs.
Addressing the meeting, the SSDMA director highlighted the importance of coordination between the control rooms with a quick response team from each of the control rooms.
"There is a dire need for communication, coordination and cooperation between the frontline workers. We want to emit on the aspect of positive development that is happening with regards to preparation and fight against COVID-19. From disinfectant drives, to awareness to importing of supplies and equipment to the hospitals and various quarantine centres, all works are being carried out in tandem with various concerned department," said Khanal.
Health officials present at the meeting delved on the need for an earmarked vehicle for transportation of sample testing highlighting how they have to ask for the same from various departments every time they need to send a sample.
"We would also like to seek help from the SSDMA with regards to import of medicines and other medical equipment consignments of the Health department that have been stuck in various other States. At this timely hour, we feel the need for such assistance even more along with many of our Health workers stuck outside of the State", stated Health principal director Dr. Topgay.
The Health officials shared that Sikkim and its people do not need masks in masses and such unprecedented supply of hand sanitizers. They emphasised on how the need for the same is more felt by the Health workers, before a positive case is identified in the State.