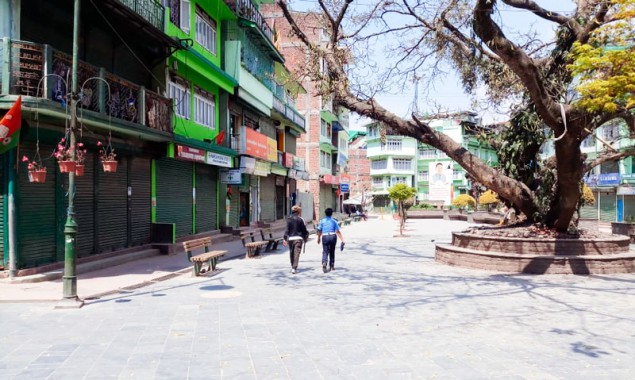 Thursday, Mar 26, 2020 11:45 [IST]
Last Update: Thursday, Mar 26, 2020 06:16 [IST]
Lockdown complete in south & west districts
NAMO DIXIT & KUSH HANG LEEWANG
NAMCHI/GEYZING: The entire south and west districts remained shut down like other parts of the State as the 21-day lockdown starts in the nation to prevent the spread of coronavirus.
Various sections of the society have welcomed the decision taken by the Prime Minister even though normal life will be disrupted due to the sudden lockdown announcement.
Sharing his opinion, Namchi Government College lecturer Dr. Kamal Poudyal said there are huge chances of community transmission of coronavirus. "During this lockdown of three week, the complete cycle of the virus can be broken and we will be able to reduce the community level transmission. If social distancing is maintained strictly, India may not face the situation as seen in the first world countries due to COVID-19 outbreak," he said.
Retired teacher Gauri Singh from Namchi welcomed the lockdown announcement stating it as the only way to save the lives of the people from the global pandemic.
Sikkim government had already notified lockdown of the State starting March 25 to March 31. With the announcement made by the Prime Minister, the lockdown was extended till April 14.
The south district police today conducted an awareness drive through miking in different parts and appealed the people to stay indoors. They also assured the people that there will be no shortage of essential commodities. The police inspected the ration shops and instructed them to display a rate board.
Similarly, the lockdown was successful in West Sikkim with only few grocery shops and medical stores open in the bazaar areas. Not many were seen lining up to buy essential items today as there was a huge rush to purchase the essential commodities a day before the lockdown started.
Strict and intensified picketing by the police personnel was conducted around the district town, Geyzing. The people violating the prohibitory orders and who were found roaming around the town were advised to stay at their respective homes. Gatherings of more than 5 persons at a place were strictly prohibited.
People in the town areas have welcomed the purpose behind the lockdown and remained indoors. Some opined that strict imposition of lockdown should also be done in rural areas of west district. Some expressed that leaving the rural areas off guard was still a risk. Keeping the rural areas under constant patrol is equally necessary as in the urban dwellings considering the possible threat of corona outbreak, they said.
Meanwhile, it was informed that police patrolling at some villages were being conducted once or twice a day.