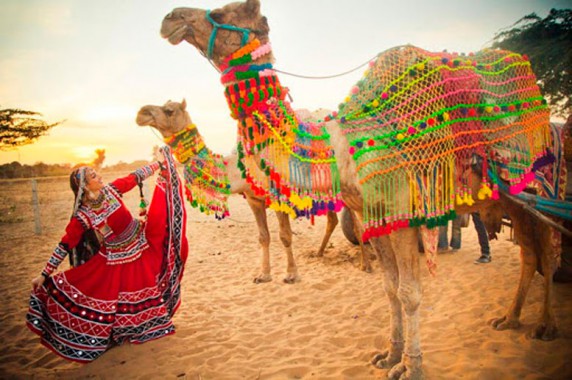 Sunday, Mar 22, 2020 12:15 [IST]
Last Update: Sunday, Mar 22, 2020 06:41 [IST]
March 30 – Rajasthan State Day
Rajasthan's royal handicrafts

S. BALAKRISHNAN
We went mad in Rajasthan, real mad! 'Oh, nothing unusual, it must be the effect of the desert weather, especially in summer', you might think. But it was peak winter and biting cold when we visited Rajasthan during January. Well, it was actually the variety of handicrafts of Rajasthan that made us go mad – what to buy and what to leave, and how to carry what we bought and, finally, where to keep them in our small house that already brims with handicrafts from various parts of India, like a mini museum. Loads of trunks full with such items stacked in the loft as the small showcase is stuffed with more than what it can hold. Rajasthan's shops overflow with handicrafts of all sorts crafted out of all types of material that one really goes mad - as to what to choose and what to leave.
Our madness was at such a heightened level that we both (I and my dear wife) instantly & unanimously decided to buy a traditional double door. If you will understand that it was the first time that we both took a unanimous decision since our wedding, then you will automatically understand the beauty of the said door. Not only that, we also ordered another door set for her sister! If we could actually buy a door, then why not a mini window; let us go ahead, we decided. Why not then matching 'accessories' like three-legged and four-legged teapoys and a dressing table to go with all these? After all we are not paying ready cash, let us deal with it after a month when the credit card due date comes. Deciding so, my wife let her hair loose and went on a shopping spree, but I could not compete with her as I do not have long hair to let it loose. Was there any need for a door? This question flashed by but we swung it aside, hoping to use the door in our yet-to-be built dream house with a special arched doorway. The dream door was lying unpacked for 8 long years until we shifted to my wife's flat. And, hold your breath; it had an arched doorway where this Rajasthan door fitted exactly and beautifully! Those who mocked us then for our insanity, are now unable to shut their mouth open wide in amazement.
There is a saying in Tamil that 'if one could afford to buy an elephant, can't that person after all afford to buy the ankus (elephant goad)! In our case it was just the reverse – we could afford to buy an ankus in Rajasthan but not an elephant! I could not believe that even elephant goads would be sold, so it was instant purchase of an iron ankus, though there were others made of costly material also. My wife did not object to it, probably hoping to use it on me when I go out of control. Do I plan to buy an elephant? Oh, never, even if offered freely. Whether white elephant or black elephant, African or Asian elephant, maintaining an elephant is an elephantine task! The ankus stands majestically near a doll elephant in our showcase, to the amusement of visitors to our house. But I don't care!
In the land of desert there were shops dedicated to the desert ship, i.e, camel. Shops there were piled up with make-up accessories for camels and horses. Unable to buy anymore, I could only scheme of looting one such colourful shop. To satisfy my desire, we bought camels and horses made of wood, leather, with minakari design, and key chains with cute, tiny figures of camel, horse, etc. One unique piece was a wooden horse completely covered with shiny mother-of-pearl pieces. Though slightly damaged, we bought it with my wife succeeding in bringing down the price with her bargaining skill in broken Hindi. I simply love this horse!
Returning from Rajasthan without katputlis (puppets) would be mockery. We bought half a dozen pairs to be presented to near & dear ones, to remind them that we are all katputlis in our life drama on this world stage. Finally, we were left with a snake charmer set – husband and wife pair.
Needless to say, shops in Rajasthan are stacked with marble items of all sizes, shapes, gods, saints, humans, animals, birds and other items. You ask, and they have it! I fell flat for a lady whose beautiful face could be seen through her gunghat covering. My wife was not jealous and asked me to lift her. But she was quite heavy, so I dropped her, I mean, dropped the idea of purchasing the marble figurine. She still haunts me! Instead, we went for an assortment of marble items carved out of pink, white and grey marble, like candle stands with inlay work, miniscule figures of elephant with howda (seat) on its back, camel, horse, etc.
Another enchanting handicraft of Rajasthan is the minakari items. Again it was the ubiquitous howda elephant, camel and horse, besides a dancing peacock which is a befitting masterpiece of Rajasthan's minakari work. To please my sweetheart I bought a pair of bangle set that the tribal Rajasthani women cover their whole hand with. But she was not pleased because it was cheap white plastic and not ivory. So, to further please her, in the flea market on way to Jodhpur palace I bought a single anklet with shell work and a head gear with shells jingling. This only shot her displeasure further up!
Being a land of many Rajas (hence Rajasthan), old legal documents of various former kingdoms are sold with traditional paintings done on them. We bought a sample of it depicting Lord Krishna riding a horse that is formed by lady figures. Being the Land of Jains we could buy a brass image of Gommateshwara Bahubali (of Shravanabelagola in Karnataka) and a copper image of a Thirthankara.
Thanks mainly due to 'Rajasthali', the Rajasthan Government's handicraft emporium, our house is rich with enchanting handicrafts. The showroom had a vast variety and the price was also reasonable. So, no wonder we went mad in Rajasthan!
krishnanbala2004@yahoo.co.in / 9840917608 Whatsapp