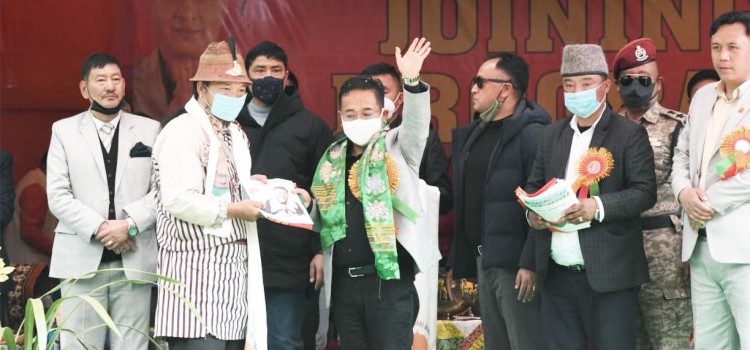 Wednesday, Feb 24, 2021 07:00 [IST]
Last Update: Wednesday, Feb 24, 2021 01:18 [IST]
Mass joining of SDF workers & functionaries into SKM
PRITAM LAMA
SKM believes in inclusive politics for Sikkim's development: Golay
GEYZING,: Chief Minister P.S. Golay on Tuesday said the SKM believes in inclusive politics for development of the Sikkimese society and the State.
"SKM is a party which aims to take along everyone together. Sikkim and the Sikkimese society can be developed through friendship and not with enmity. With this thought, the SKM has taken the policy to welcome all into the party. We want to build a bright future for Sikkim and its people and for this, we have embraced inclusive politics," said the Chief Minister.
Golay, also the SKM president, was addressing a programme at Sribadam in West Sikkim where thousands of SDF workers and senior functionaries joined the ruling front.
In his address, the Chief Minister asserted that the dedication and hardships faced by the SKM workers when the party was in opposition will not be forgotten. "I assure every party worker that your dedication and hardship will never be forgotten. The name of every SKM worker is written in my heart and I will not forget their role in bringing SKM to power. We must be happy that we are now stronger and efficient to serve our people," he said.
Golay said the SKM government has prioritised youths of Sikkim and given ample opportunities for their development and progress. He said former Chief Minister Pawan Chamling did not gave growth opportunities to the youth and only used them for political gains.
The Chief Minister informed that he is touring Yuksam-Tashiding constituency from March 1 to 3. "I want to visit underdeveloped corners of Sikkim and would be staying at remote Karge-Mangnam and Pokhari village of Yuksam-Tashiding. I will spend my day meeting people there," he said.

Thousands join SKM
Thousands of people including party workers and senior functionaries of opposition SDF on Tuesday enmasse joined the ruling SKM party during a programme held at Sribadam, West Sikkim. They were welcomed into the ruling front by SKM president and Chief Minister P.S. Golay.
Those switching to SKM party include former legislators, former advisors and sitting panchayats of the SDF. Prominent among them are former Rajya Sabha MP O.T. Lepcha, Sher Hang Subba, former minister Menlom Lepcha, former Speaker C.B. Subba and others.
Sher Hang Subba, who held a senior post in the SDF, said: "We have joined SKM today after witnessing rapid development in Sikkim. Various delayed projects have now going forward with pace. Several road projects were sanctioned by the past SDF government in west district but those roads were left incomplete. The SKM government has ensured that these abandoned road projects are completed to bring relief to the people."
Sher Hang asserted that the SKM government led by Chief Minister P.S. Golay is successfully managing and developing the State. "We have witnessed many developmental activities within a short span of time. We decided to support the SKM government for the development of Sikkim," he said.