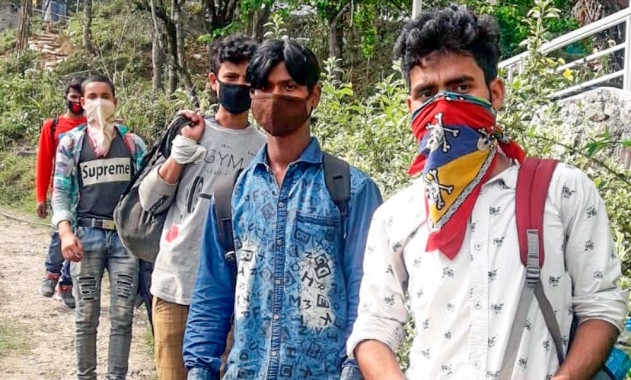 Sunday, Mar 29, 2020 14:45 [IST]
Last Update: Sunday, Mar 29, 2020 08:47 [IST]
MIGRANT WORKERS START TOWARDS THEIR HOME STATES ON FOOT
Thapa urges CM to make travel arrangements for migrant workers leaving Sikkim

NAMO DIXIT
NAMCHI: Due to the ongoing lockdown, a group of migrant labourers working in Namchi, South Sikkim are walking back to their native places in West Bengal on Saturday. They have taken the village pathway and walking down towards Melli from Namchi. We will reach our homes walking and stay there till the situation improves, they said to SIKKIM EXPRESS.
Many migrant workers working in Sikkim are leaving the State as the lockdown has wiped out their daily earning opportunities.
A similar group of daily wage workers were spotted resting at near Rangpo by SIKKIM EXPRESS. They had started their walk at 4 am from Assam Lingzey and were walking towards Siliguri.
Meanwhile, BJP Upper Burtuk MLA D.R. Thapa today wrote to Chief Minister P.S. Golay requesting that appropriate travel arrangements are made for migrant workers who want to leave the State.
"It has come to my attention that the migrant labour population that resides in Sikkim is not being given the permission to leave for their home States under the lockdown. Keeping in consideration the magnitude of this pandemic and the necessity to stay indoors during the lockdown, the State also has to consider the demands of this section of the population," said Thapa in his letter.
"The lockdown has been announced for a period of 21 days but may last for a longer period. Various migrant populations across the country are making their journey back home on foot with extreme difficulty and it is our responsibility to make sure that the same fate does not befall the migrants working in Sikkim," submitted the BJP legislator.
Thapa mentioned that as per news reports, the Uttar Pradesh government has recently made available 1,000 buses to ferry stranded migrant labour populations from border districts. This shows that even in a situation of national lockdown, a solution is possible, he added.
"The Sikkim government in consultation with the governments of the respective home States of the migrant workers should consider a joint travel arrangement so that these workers can make a safe passage to their respective States. I hope this matter is looked into urgently and a suitable solution is achieved," said Thapa.