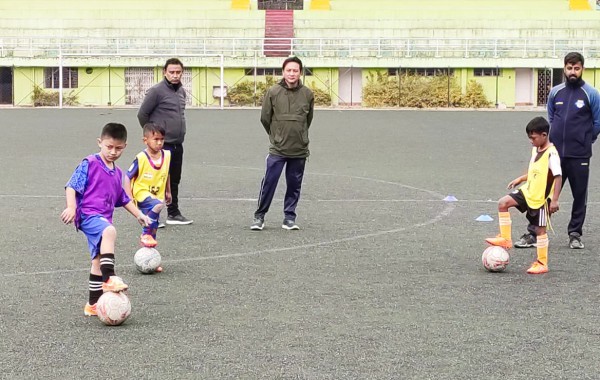 Sunday, Feb 07, 2021 07:45 [IST]
Last Update: Sunday, Feb 07, 2021 02:07 [IST]
Minerva Academy conducts selection camp for u-10 Sikkim football talents
KUNAL RAI
GANGTOK,: The final u-10 football selection trial for Minerva Academy FC was held at Paljor Stadium here on Saturday.
The Punjab-based Minreva Academy is offering 100% scholarship programme for talented u-10 footballers as per an ambitious project of Minerva Academy owner Ranjit Bajaj.
Head scout Narendra Singh Bhandari led the three-member selection committee along with one coordinator from Skylark Sportz, sports management company at Paljor Stadium. They were supported by Sikkim Football Association (SFA) and Sports department.
Preliminary trials had taken place in Jorethang and Gangtok earlier.
Skylark Sportz coordinator Udipta Sarma informed SIKKIM EXPRESS that the selection trails are for talented football kids of under 10 years of age. The academy owner is considering an ambitious project of FIFA 2034 following which scouting and selection of talented kids is being done nationwide, he said.
"The selected u-10 boys will sign a contract of 10 years with 100% scholarship. They will receive football training in the academy along with education and residential facilities from the academy. The parents only need to bear the travel expenses when they bring or take home their children from the academy," said Sarma.
SFA chief coordinator Phurba Sherpa said the SFA is extending support to Minerva Academy FC for the trials in Sikkim considering the future of aspiring football kids here.
"We are extending all support and even coordinating with the parents of children coming for the trials also. We will also keep a track of the children selected for the academy," said Sherpa.