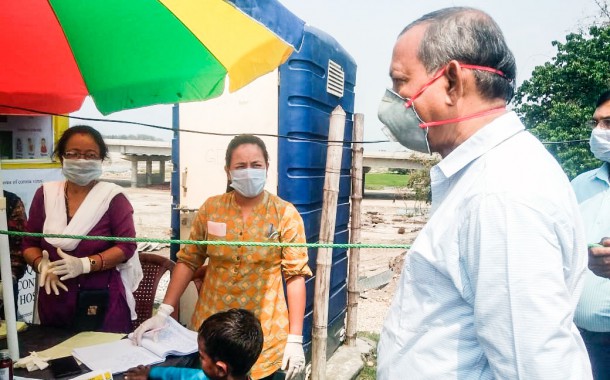 Sunday, Mar 22, 2020 12:45 [IST]
Last Update: Sunday, Mar 22, 2020 07:09 [IST]
Minister Deb visits Nepal border
PRASHANT ACHARYA
PANITANKI (Indo-Nepal border): West Bengal Tourism minister Gautam Deb visited Indo-Nepal border at Panitanki to take stock of screening and other precautionary measures to tackle COVID-19 outbreak on the Indian side. He assessed the screening being done by the Health workers deployed at the post for past many weeks.
The minister instructed the Health workers including the doctors to wear masks and hand gloves after he discovered some workers undertaking the screening process without hand gloves. He also asked the visitors entering Indian territory from Nepal to use masks and go through proper screening by cooperating the Health staffs and security personnel.
Speaking to media persons Deb said, "I have visited Indo-Bangla border till zero point on Friday and today I came here as it was very necessary. Many people are visiting Nepal and coming to Indian part so the sealing of border is not possible. The screening process is carried by our health workers and temperature is being monitored. The names and address of every individual is being noted. There were 172 Nepali citizens with high temperature whom returned them back to their country. I have also asked Health workers to use masks, sanitizer and hand gloves. I am monitoring the situation from Siliguri and Chief Minister Mamata Banerjee is also monitoring from Nabana and sending various directives and we are all following that."
The minister added that since the border is sensitive, the State government is taking all adequate measures.
Deb later also met SSB officials at the border regarding the prevention of the coronavirus.
The Health workers informed that nine Indians crossing the border from Nepal found with high temperature are being taken to Batasia health centre for medical examination.