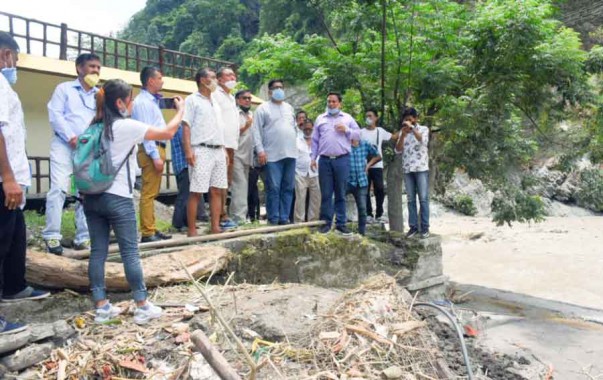 Sunday, Aug 09, 2020 14:45 [IST]
Last Update: Sunday, Aug 09, 2020 09:13 [IST]
Minister inspects Kirateshwar mandir damages
SE Report
GANGTOK: Minister and Gyalshing-Bermiok MLA LokNath Sharma today visited Kirateshwar Shiv Mandir at Legship where a swollen Rangitriver had caused a huge damage on Wednesday night.He was accompanied by the Geyzing Municipal Council chairman I.K. Neopaney, councillors, DC(west) Karma R. Bonpo, Rabongla SDM SonamTopgayTashi, RO Wangyal Bhutia, Rangit Power Station GM Ram Swaroop, officials from Shiga Energy, mandir committee and others.
An IPR release informs, the visiting team inspected the damaged premises of the temple along the riverside and erosion-hit surroundings extensively.
Thereafter, a brief session was held wherein the minister discussed for the protection of the affected site and its renovation work to be taken up in near future. He also extended financial support of Rs.30,000to the mandir committee for immediate relief. He assured to extend all possible support from the government's end for restoration of KirateswarMandir and protection of residential settlements.
The minister advised the mandir committee to coordinate with the district administration for taking up repair works on priority basis. He informed that the DC (west) will submit an assessment report of the affected site to theChief Minister for his directives for further course of action.
Minister Sharma also directedNHPCRangit Power Station for the construction of protective wall at the foundation site of mandir bridge.