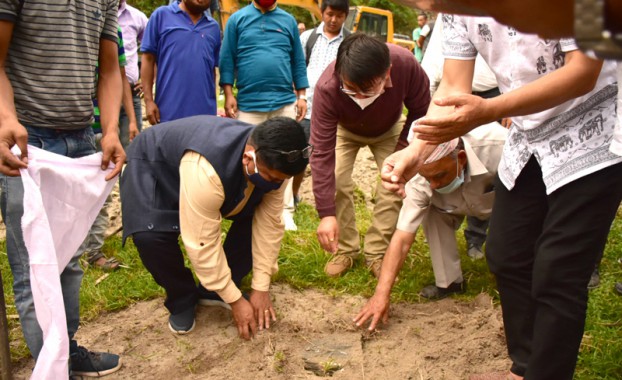 Friday, Jun 05, 2020 14:15 [IST]
Last Update: Friday, Jun 05, 2020 08:35 [IST]
Minister lays foundation stone for bridge
KUSH HANG LEEWANG
GEYZING: Minister and area MLA Lok Nath Sharma laid foundation stone for a bridge at Sirthang under Gyalshing-Barnyak constituency today.
The bridge over Kalez Khola will ease connectivity between Geyzing with Bermiok upon its completion. Till date, a temporary iron bridge is in use as a 'crossover' medium. The construction of the 50-metre-long bridge is being initiated by Roads&Bridges department through a local contractor at the cost of Rs. 8.56 crore. The bridge creates the shortest distance between district headquarter Geyzing and other places of West Sikkim such as Bermiok, Rinchenpong, Soreng and Sombaria.
Minister Lok Nath Sharma stressed on quality to be maintained in bridge construction work and added that there would be no compromise as far as quality of work is concerned. He maintained that the bridge would cut down the distance between Geyzing and some other places of West Sikkim. He hailed the State government and Road & Bridges department for approving the bridge construction project.
Earlier, minister Sharma visited a site nearby Geyzing petrol pump for construction of a parking plaza and Kishan Bazar project. However, the project which is being executed by Urban Development and Housing department is yet to commence as certain clearances from the Forest department are required. It was reported that some parts of the land fall under Forest department's jurisdiction.
It may be mentioned here that Geyzing town presently lacks parking facilities and the locals had been demanding for one since long. The local taxi stand and other parking spaces remain congested even on normal days.
Minister Sharma pressed for early commencement of the sanctioned project citing that delay in the project may hamper the developmental process. He directed the Forest department to take necessary step for clearance of norms at the earliest so that project moves forward.
The minister also inaugurated an organic haat shed set up on the top floor of IDMST building (shopping complex) at Geyzing bazar. The organic haat shed has been established to ease the difficulties being faced by the vegetable sellers especially during rainy season as the place where the haat is conducted is located at open space without roof.