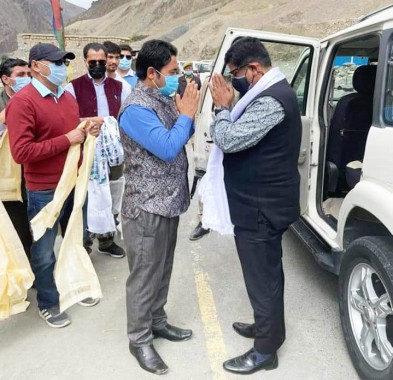 Sunday, Sep 26, 2021 08:30 [IST]
Last Update: Sunday, Sep 26, 2021 02:56 [IST]
Minister shares success stories of Sikkim in organic farming, farmer-friendly initiatives at Ladakh
KARGIL, (IPR): Agriculture minister Lok Nath Sharma on Friday held a meeting with LAHDC Kargil chairman and chief executive councillor Feroz Ahmad Khan at conference hall Baroo, Kargil.
The meeting was organised to share the success stories of Sikkim in becoming cent percent organic State and farmers friendly policies and programmes initiated by the State government.
Agriculture minister Lok Nath Sharma congratulated UT Ladakh for going organic and stressed that we need to go by the slogan that agriculture is future and future is agriculture. He threw light on the indispensable significance of agricultural farming for the existence of human society with good health and sustainable source of livelihood. He also underlined recent developments made by the State government to benefit the farmers of Sikkim.
The minister said all possible support will be extended to LAHDCs and advised to visit Sikkim for empirical study and receive guidance on organic farming. He said the purpose of organic farming should be to increase the value addition of the product, and anticipated that Sikkim and Ladakh share similar, topographical features, religious and cultural values and organic farming will further make this bond stronger.
CEC Feroz Ahmad Khan mentioned that we have to look for sustainable economy and the Covid-19 pandemic has taught us that agriculture can be the best option to achieve sustainable economy. He added that incorporation of technology in agriculture is beyond doubt necessary for enhanced productivity and in the coming times with the collaboration of LAHDCs and the Sikkim government as per the MOU signed, we will be able to declare Ladakh an Organic UT by 2025.
Khan further stressed on inter-exchange of resource persons by the Government of Sikkim and the LAHDC Kargil for better understanding of the newer technologies and suggested for exposure tour of a team of officials from Kargil to Sikkim to understand organic farming.
Kargil DC Santosh Sukhadeve earlier welcoming the guests said organic farming is already in practice in Kargil. However to achieve 100 per cent in organic farming we will need the guidance and support of the Sikkim Government as they have already achieved it, he said.
SSOCA Sikkim CEO Sudhir Giri and SOFDA Sikkim CEO Dr S. Anbalagan gave presentations about the success story of Sikkim in achieving organic farming and also shared their suggestions and experiences.