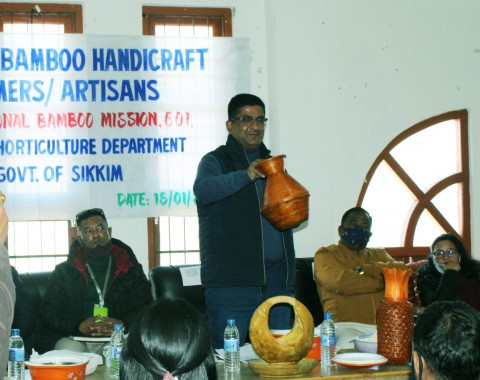 Sunday, Jan 17, 2021 08:00 [IST]
Last Update: Sunday, Jan 17, 2021 02:21 [IST]
Minister Sharma inaugurates bamboo training at Hee Martam
GANGTOK,: Agriculture minister L.N. Sharma on Friday inaugurated a training programme on bamboo handicraft for farmers and artisans at Hee Martam BAC, West Sikkim.
An IPR release from Geyzing informs that the 20-day training programme is being organised by the Horticulture department under National Bamboo Mission. A total of twenty trainees have been attending the training programme. Two master trainers from the locality will impart training as a resource person of bamboo crafting.
Addressing the farmers and trainees, minister Sharma articulated on the importance of bamboo crafting, its versatility and advantages. He mentioned that the farmers need to be skilled and capable enough to generate source of sustainable livelihood and bamboo sector would be an opportunity to make them self-reliant economically.
Highlighting the increasing demand and scope of bamboo crafting, the minister motivated trainees to be more dedicated and determined to practice and prepare attractive bamboo crafts. He also assured to provide further training programme for best performing trainees to make them finest entrepreneurs.
Block Development Officer, Hee Martam, Prativa Tamang encouraged the gathering to take optimum benefits of the training programme.
Dr. Tika Nepal, bamboo consultant, Horticulture department also addressed the inaugural function.
On the same day, minister Sharma inaugurated a newly constructed ICDS centre at Hockandang, Martam Ghaiyabari Ward, Martam GPU.
The three-roomed single storey centre has been constructed by the Social Welfare department in convergence with MGNREG).
A social worker of the locality, C.L. Sharma had donated the land for the establishment of ICDS centre in memory of his father Late Prasad Sharma and mother Late Nara Maya Sharma.
Minister Sharma interacted with the concerned officials and assured to provide necessary requirements for the centre at the earliest, the IPR release mentions.