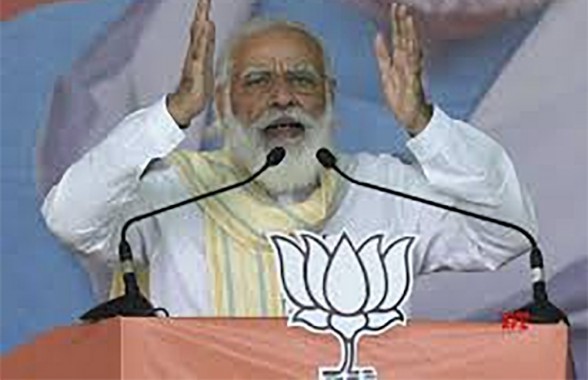 Monday, Nov 02, 2020 11:45 [IST]
Last Update: Monday, Nov 02, 2020 06:07 [IST]
Modi contrasts 'jungle raj' with NDA's development mantra
Patna(IANS) Prime Minister Narendra Modi on Sunday contrasted the 'jungle raj' during the RJD rule since 1990s till 2005 with 'development' ushered in by the National Democratic Alliance in Bihar.
Addressing a rally in north Bihar's Chhapra, Modi used 'Lakarsunghwa' word from local dialect for the Rashtriya Janata Dal rule.
"During the RJD rule for 15 years, mothers won't allow their children to step outside home. They used to create fear in the mind of children about 'Lakarsunghwa' who would snatch them. Lakarsunghwa is a word used to describe the kidnapping industry in Bihar. It worked in an organised way. A large numbers of children were kidnapped at that time," he said.
"I want to put in perspective as to why industries were not established in Bihar at that time. The reason was frequent kidnappings. Threats of kidnapping always loomed over the heads of engineers and contractors. If any industry was ready to work in Bihar, it had first to negotiate extortion money before sending teams to Bihar," Modi alleged.
The Prime Minister said that after Nitish Kumar-led government came in power in Bihar, it worked in every field like road infrastructures, electricity connectivity to every household, construction of bridges on rivers etc.
"We have extensively worked on the development of waterway by using rivers. Now, we have a water route from Haldia to Varanasi on the Ganga river. We will soon develop a cargo terminal at Kallu Ghat in Patna to promote trade through waterways for people of Bihar. Why did the RJD government did not use it as a trade route. That government had no vision to use natural resources. We have a clear vision," he said.
"Even since the NDA came to power at the Centre and Bihar, it has given strength to the poor and alleviate their pain," the Prime Minister said.
"The opposition parties also do not give respect to others. Raghuvansh Babu, a great socialist leader, was humiliated by them (RJD). It is a prime example of their character," he alleged.
"Over the years, the youth of Bihar faced huge challanges due to language problem in competitive examinations. Children living in Bihar use their mother tongue in school and college education. When it comes to competitive exams, they are unsuccessful due to English language problem. I want to thank the BJP Bihar unit for proposing higher education in the mother tongue. That means if the NDA government returns to power in Bihar, medical, engineering and technical education will be imparted in Hindi," Modi assured.
Modi again slammed the opposition for creating rumours about the 2019 Pulwama terror attack.
"Recently, our neighbouring country (Pakistan) accepted that the Pulwama attack was carried out by them. It answers the Indian opposition leaders who floated so many rumours and suspicion that may affect the morale of our armed forces . They do not respect the martyrdom of our brave soldiers, a majority of whom are from Bihar. Now, they come here and seek votes to serve their self-interests," the Prime Minister added.