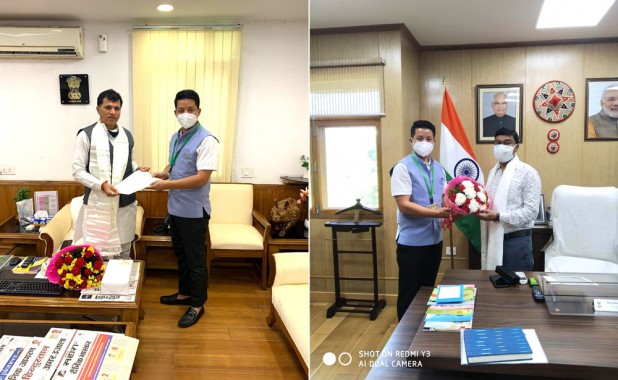 Thursday, Sep 17, 2020 13:45 [IST]
Last Update: Thursday, Sep 17, 2020 07:48 [IST]
MP takes up Sikkim issues with ministers
SE Report
GANGTOK: Sikkim Lok Sabha MP Indra Hang Subba called on Minister of State for Agriculture and Farmers' WelfareKailash Choudhary at his office in New Delhi today.
During the discussions on various issues and policies related to the ministry, Subba apprised on how the State government is committed to implement Central schemes in the State and is working tirelessly so that the schemes laid by the Union government would benefit the people at the grassroots. They also discussed elaborately on how the organic farming can be promoted in Sikkim and other northeast States. The minister showed deep sense of interest in creating better agricultural infrastructure for the farmers inSikkim, a press release informs.
Later during the day, the Sikkim MP called on Minister of State for Food Processing Industries Rameswar Teli. Subba apprised the MoS on the importance of food processing units in Sikkim for cash crops like large cardamom, ginger, turmeric, kiwi, orange and other horticulture and agriculture produces. They had elaborate discussions on various policies presently in place. Minister Teli assured all possible help to the government of Sikkim in implementation of the policies. The MP further requested the minister to consider establishment of mini-food park in the Sikkim.
During the meeting with the ministers, the Sikkim MP explicitly apprised them regarding pending issue of reservation of seats in the legislative Assembly of Sikkim for Tamang and Limboo schedule tribes and demand for inclusion of 11 left-out communities in the list of Schedule Tribe by submitting a letter to each of the ministers. As the lone MP from Sikkim in the lower house, Subba requested them to extend help in apprising the government on the issues and theministers assured all possible help, the release adds.