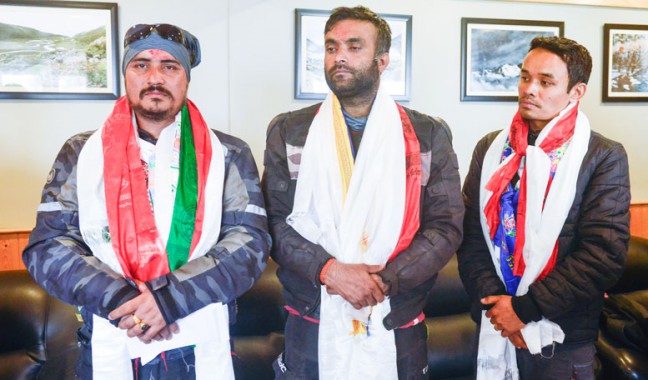 Thursday, Feb 13, 2020 14:30 [IST]
Last Update: Thursday, Feb 13, 2020 08:46 [IST]
Mumbai to Gangtok rally to spread awareness on cancer
Staff Reporter
GANGTOK: A bike rally covering around 3400 km from Mumbai to Gangtok to create mass awareness on cancer reached the Sikkim capital on Wednesday afternoon.
The rally was held under the banner of Nepali Gorkha Sewa Samiti, Mumbai and was flagged off from Chembur, Mumbai on February 3. Five members of Hamro Chhahari - Keshav Sapkota, Bipen Dahal, Thakur P. Adhikari, Tshering G. Sherpa and John Karki were the part Mumbai to Gangtok rally. They covered major cities of Goa, Karnataka, Andhra Pradesh, Telangana, Odisha, West Bengal and Sikkim with message on cancer and its prevention.
On entering Sikkim, three bikers from Sikkim, Keshav Sapkota, Bipen Dahal and Thakur P. Adhikari received a warm welcome at gateway of Sikkim, Rangpo and then again at Titanic Park by different social organisations and biker clubs of Sikkim.
The other two members, John Karki from Darjeeling accompanied the team till Kolkata and Tshering G Sherpa from Shillong travelled till Baghpul.
All five members of the rally are retired Navy officers.
A reception programme was organized by one of the oldest social organizations of Sikkim, Naupath in association with Press Club of Sikkim and Journalists Club of Sikkim at Tourist Information Centre, MG Marg. The programme had Education minister Kunga Nima Lepcha as the chief guest and was accompanied by Sikkim Commission for Backward Classes chairperson Pabitra Bhandari among other dignitaries.
Sharing the experience of their bike rally, team leader Keshav Sapkota mentioned that cancer patients and their family especially from Sikkim and neighbouring hills coming to Mumbai have been found helpless and suffering in different situation. "In such situation, Hamro Chhahari members have been guiding and supporting them and providing shelter in our two rented buildings. So, another motive of this bike ride is also to inform the people of our region about Hamro Chhahari so that they would able to take full advantage of it," he said.
Sapkota informed that this anti-cancer rally had covered major cities of eight States with mass awareness in cancer. "We are just face of this anti-cancer rally but there are many people behind the success of this rally so we would like to thank every one of them for their support and guidance," he Sapkota said.
Earlier, in his welcome address, Naupath coordinator, Kazeeman Chettri thanked Swastika Chettri and Shakun Singh Rai of Nepali Gorkha Sewa Samiti and their entire team for working selflessly for the people of Sikkim and neighbouring areas in Mumbai. He also congratulated the bike ride team for taking the initiative in creating mass awareness in cancer.