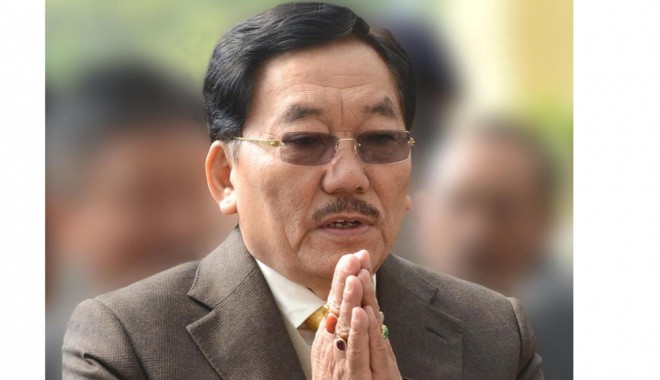 Saturday, Nov 21, 2020 13:15 [IST]
Last Update: Saturday, Nov 21, 2020 07:42 [IST]
My biggest worry is deteriorating state of freedom and democracy in Sikkim: Chamling
SE Report
GANGTOK: Since start of November, former Chief Minister and SDF president PawanChamling has launched an online question and answer session with a view to connect with the people of Sikkim.
Chamling will be addressing one question each week. This is an arrangement to keep in touch with people as physical meetings are restricted under the present Covid situation, a previous SDF release had informed.
This week's question posed to Chamling, as per a party release, was: "You have closely looked at the State government as a former Chief Minister and an opposition leader. What is your evaluation of the present government so far?
In his reply, the former Chief Minister pointed out that the present State government has spent one and half years of its tenure during which the people have already evaluated its priorities and how it will perform. Once a leader and a party are in power, only then the public can evaluate its performance and character, he said.
"A government's work is recognized by its work and I am sure the public have done this necessary evaluation. It is not for me to speak on this since it is the public that will judge," said Chamling.
Chamling shared that he has led a life in politics for the sake and benefit of Sikkim and the Sikkimese people. "During the elections, I stressed on the critical importance of the choice of the people, especially during in this past election but unfortunately, the people did not take heed of what I was saying. I had worked hard to build awareness and our campaign call highlighted the criticality of the voters' choice this time," he said.
"In light of my long years of experience in the administration, what deeply worries me is the assault on the principle of democracy in Sikkim today. Democratic norms, rules, laws and principles have been rejected. Never have the institutions of democracy been more jeopardized in the 45-year history of democratic Sikkim as it is today. The government of the day blatantly rejects democracy," said Chamling.
The SDF president alleged that the present State government is making a mockery of democracy by denying the legitimacy of its political opponents. The civil liberties of political opponents, the general public and the critical voices which are important to nurture the democratic health of any society, have been heavily curtailed, he said.
"Freedom of expression and freedom of the media have been under serious attack. Do you now read any newspaper article that seriously questions governmental lapses? Have you seen social media activists or common people freely speaking their mind against decisions of the State government which are detrimental to our society? Where have the dissenting voices gone?," Chamling questioned.
"Anyone who differs with the government or questions the government is considered an enemy. All opponents are considered enemies. Many have fallen victim to this political fallout. This is a dangerous situation not seen thus far in Sikkim and it puts the democratic health of our Sikkimese society under great threat. Overall, people are under a fear psychosis. People feel too terrorized to exercise their fundamental rights as citizens and natural rights as human beings," said Chamling.
"If the sun ceased to exist for 18 hours, life would end. If freedom ceases to exist, even for a moment, then democracy is dead - for the soul of democracy is freedom. So my biggest worry is this deteriorating state of freedom and democracy in Sikkim. The issue is that there is no rule of law and governance in Sikkim - there is only government. And good governance is required to protect civil liberties, nurture democracy and push the state towards progress. But unfortunately, we are losing the spirit of democracy today. And without freedom and democracy, Sikkim and its future is under a great threat and this worries me tremendously," said the former Chief Minister.