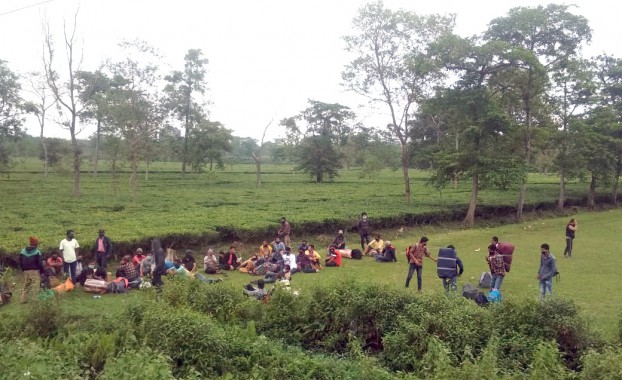 Nepalese migrants sent back from Panitanki border
PRASHANT ACHARYA
SILIGURI: Bagdogra police on Sunday provided lunch and transportation facilities to 49stranded Nepalese migrants after security personnel denied permission to cross the Indo-Nepal border at Panitanki.
The stranded persons including some old-aged people had reached Panitanki border after trekking from Siliguri this morning with the hope to enter their home country. However they were denied permission and brought back to Bagdogra in vehicles and asked to stay on a nearby playground. The migrant workers mostly natives of Western Nepal were working in Kolkata and various places in North Bengal.
According to the Nepalese nationals, they were harassed by the security persons by forcing to go back to where they had come from without hearing to their plight. They said they were hungry and could not get proper food to eat as the shopkeepers denied selling food item due to fear of spreading virus.
Amrit Mangranti from Dhading district of Nepal said, "We reached Indo-Nepal border at Panitanki after hearing that Nepal government is allowing us to enter via Kakarvitta. We saw around 60-70 Nepalese residents gathered there but suddenly security persons asked us to board a vehicle and dropped us near Bagdogra. We were trapped here not able to enter Nepal and nor returned to our workplace in Kolkata."
Finally Bagdogra police who were patrolling in the area saw these stranded people and brought lunch packets and later arranged a truck to reach Panitanki border.
Before leaving the area, the migrants thanked Bagdogra police for providing food and arranging vehicle.
Asked on the issue, a police personal informed that the district administration has passed an order allowing Nepalese residents to reach till Nepal border.