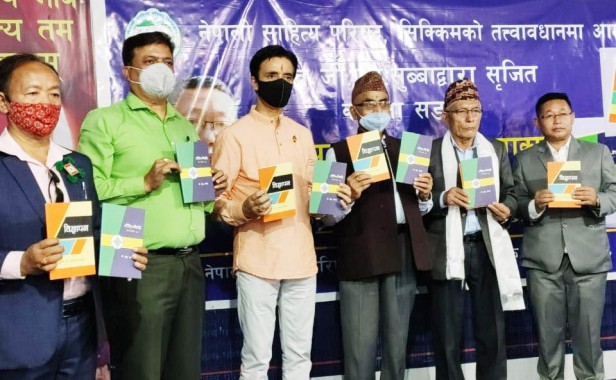 Sunday, Sep 26, 2021 08:30 [IST]
Last Update: Sunday, Sep 26, 2021 02:55 [IST]
Nepali & Limboo poem collections released
KUNAL RAI
GANGTOK,: Two compilations of poems – 'Bigyapan' and 'Silam Sakma' – were released on Saturday by Urban Development minister Arun Upreti during a programme here at Nepali Sahitya Parishad (NSP) Sikkim Bhawan.
Poet G.S. Subba informed that 'Bigyapan' is a Nepali poem collection while 'Silam Sakma' is a compilation of Limboo poems. He remembered his parents, elders and mentors on the occasion. After I became a member of NSP Sikkim, I was able to learn a lot for which I am grateful to the Parishad, he said.
'Bigyapan' has 36 short Nepali poems while 'Silma Sakma' consists of 29 poems and six songs in Limboo language.
Minister Upreti congratulated G.S. Subba for the two poem collections. He spoke on the need to encourage reading and writing habit in the present digital era. He urged the gathering to cultivate the reading and writing habit, especially regional languages, among the coming generation.
On the occasion, the NSP Sikkim felicitated Ganesh Kumar Pradhan for his Ram Gauri Museum established and maintained at Rhenock since 1970.
NSP Sikkim president Rudra Poudyal congratulated the poet for his two poem collections. He appealed the gathering to read the books released today and give their feedback to the poet.
"It is high time for all the literary lovers to extend their fullest cooperation by reading the works of every writer, author and poet. Only by this way we can encourage more writers, authors and poets to foster in days to come," said Poudyal.