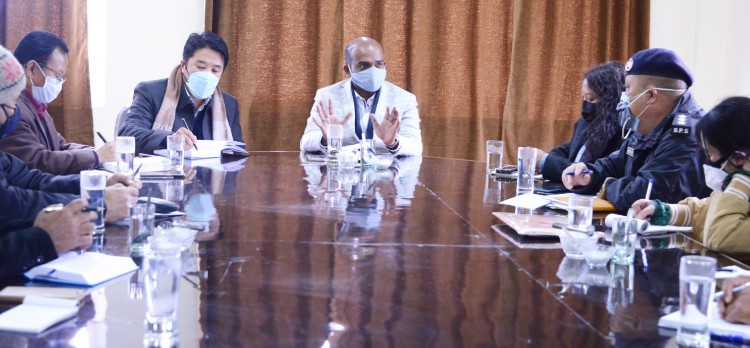 Saturday, Jan 22, 2022 08:15 [IST]
Last Update: Saturday, Jan 22, 2022 02:42 [IST]
New district Pakyong prepares for R-Day celebration
PAKYONG, (IPR): Gangtok district collector Ragul K., who holds the additional charge of the newly-established Pakyong district, convened a meeting at the conference hall of the office of ADC (Development), at Pakyong, today.
The meeting was called to discuss preparations for the upcoming Republic Day celebrations and to discuss other issues concerning Pakyong district.
The meeting also had Gangtok SP Dr. Shiva P. Yellasari, who also holds the additional charge of Pakyong, Pakyong ADC (Development), SDM, SDPO, officers and staff from various departments along with engineers and representatives from NDRF.
Ragul K. congratulated everyone present for attaining the district status and said that the officers and staff should now feel encouraged and work sincerely. Details of the programme were discussed succinctly and every department was given a responsibility towards organising a successful event.
Ragul stated that there should be uniformity in the sequence of the programme in sync with the capital Gangtok.
It was decided that the venue would be the community hall due to the recent weather forecast that has predicted rainfall in the coming days. He instructed that the venue be sanitised thoroughly a day prior and alternate seating arrangements be made, keeping the Covid protocol in mind. It was informed that the community hall has about 200 capacity and the number of people present should not exceed 100.
SP Yellasari discussed the details of the guard of honour and the responsibilities of the law enforcement.
All the officers and staff were requested to work in tandem and with sincerity towards organising the first Republic Day event in Pakyong after becoming a district.