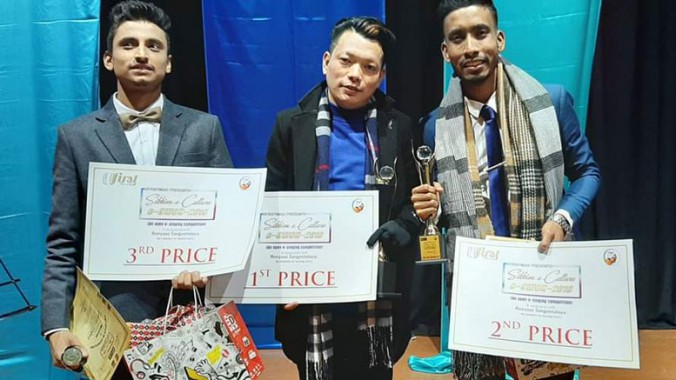 Tuesday, Jan 14, 2020 11:15 [IST]
Last Update: Tuesday, Jan 14, 2020 05:36 [IST]
Nischal Raj Dewan bags Sikkim-e-Culture e-Swor title
ISABELLA GURUNG
GANGTOK: Nischal Raj Dewan from Gangtok was declared as the winner of the second edition of Sikkim-e-Culture e-Swor singing competitionorganised by Ufirstmag at Manan Kendra, here Sunday evening. SishirThatal from Rangpo and Ishwar Nepal from Gangtok finished second and third respectively.
The winner was presented with a cash prize of Rs. 40,000, a music video contract, scholarship in ReeyazSangeetalaya, trophy and certificate. Similarly, the second and third positions were presented with cash prizes of Rs. 15,000 and Rs. 10,000, respectively and trophies and certificates.
The chief guest for the event was Gangtok MLA Y.T. Lepcha. He was accompanied by Rural Development special secretary Anil Raj Rai as the guest of honour.
The chief guest congratulated the winners, participants and organisers for hosting a grand event.
Over 127participants from various parts of the State and neighbouring regions had registered for the competition. Three rounds were held before the grand finale and the top 11 finalists performed and mesmerized the audience with their songs at the grand finale, informedUfirstmag executive MD Dr. Praveen Rizal.
Sikkim-e-Culture e-Swor is a signature event of Ufirstmag, that aims at encouraging the youth of the region. The open e-singing competition was established in 2017 and the winners were chosen as per the number of views, likes and comments of their performance video in YouTube, along with judge points, he added.
The event focuses on understanding and boosting of e-culture in Sikkim that equally captures youths and students and students towards talents and exemption from social evils.
The judges for the event were artistes Manoj Rai, Dr.Sudarshan Tamang and SnehashreeThapa and the special judges for the day were artistes BhanuRamudamu, Bimla Pradhan and Bhanu Gurung.