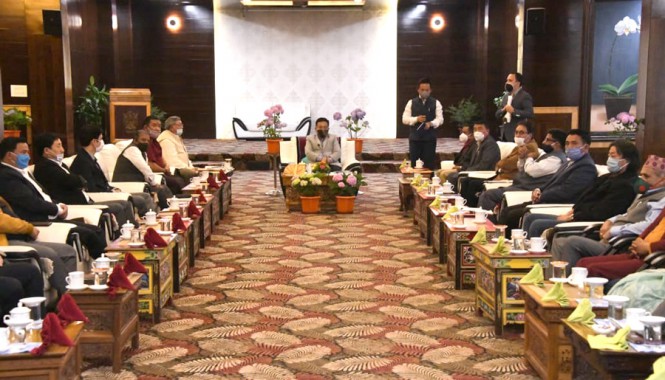 Friday, Jun 05, 2020 14:15 [IST]
Last Update: Friday, Jun 05, 2020 08:33 [IST]
No discrimination in selection of Sikkim Garib Awas Yojana beneficiaries: CM tells SKM MLAs
SE Report
GANGTOK: The SKM legislators meeting held on June 3 has decided that each legislator would be planting at least 1,000 saplings in their respective constituencies starting June 5, the World Environment Day. The plantation drive would continue till July, the SKM legislature party decided, a press release informs.
The SKM legislators meeting held at Samman Bhawan here was chaired by Chief Minister P.S. Golay.
At the meeting, the Chief Minister stressed before the legislators that there should be no discrimination in selection of beneficiaries for the Sikkim Garib Awas Yojana (SGAY).
The SGAY is a flagship programme of SKM government wherein 100 houses would be constructed in each constituency. This housing scheme is purely for rural areas but simultaneously for urban areas under Sikkim Urban Awas Yojana, as government is planning to bring the plan for urban settlers.
Golay suggested to the legislators to list out other beneficiaries including those for house up-gradation, GCI sheets, etc. He informed that State government shall allocate separate budget for small scale civil works like jhora- training besides NC budget allocation.
During this financial year, the government has made a budget provision for construction of roads in the various constituencies. The Chief Minister asked the legislators to identify areas of constructing new roads in their respective areas.
The meeting also applauded government's decision to provide grants to farmers on their agricultural products.
The Chief Minister placed before the house that Rs. 50 crore has been allocated for Skill Youth Start up scheme wherein the State government can encourage youths in various entrepreneurial areas. This amount will be devoted for granting subsidised loans in tie-up with central banks.
As per the release, the meeting welcomed the government's decision for a complete ban of service extension system and unanimously decided that no one will encourage such act in future. It was further discussed on ways to reform administrative activities in the State and proper management of each and every department so that people can avail government works without any hardship.
The legislators thanked all the Covid-19 warriors of Sikkim for their dedicated service and selfless efforts in these unprecedented times of pandemic. The meeting appealed to the citizens not to panic but to stay calm as the State government is prepared for the containment of the disease.
Evacuation process of stranded Sikkimese is on war-foot level, wherein the final and last batch of stranded Sikkimese has already proceeded from Mumbai and will be arriving in 2-3 days.
The Chief Minister informed that the inter-district movement of vehicles has been barred (till June 15) taking safety concern of the people. As things normalize, there may be relaxations accordingly, he said.