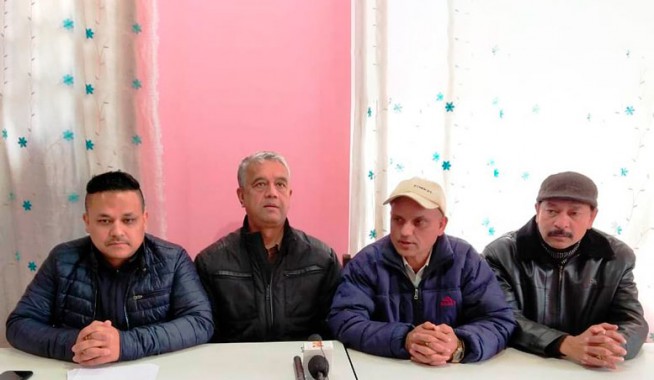 Wednesday, Feb 12, 2020 13:15 [IST]
Last Update: Wednesday, Feb 12, 2020 07:43 [IST]
'Observe Karwayi Diwas instead of Pratibad Diwas'
SKM should take action instead of protesting 2013 lathicharge: SACAA
PANKAJ DHUNGEL
GANGTOK: The Sikkim Against Citizenship Amendment Act (SACAA) on Tuesday suggested the ruling Sikkim Krantikari Morcha (SKM) to stop still observing 'Partibad Diwas' and come into action by taking the case forward.
The SKM observes 'Pratibad Diwas' annually as a protest to mark the day when the party workers sustained injuries in a police lathi-charge at its then SKM headquarters, Convoy Ground, Tadong here on Feburary 11, 2013.
The then IGP (Law & Order) Akshay Sachdeva is widely accused of having ordering the intense lathi-charge on the SKM workers inside the party head-office. Many of them landed in hospital with injuries.
Addressing a press meet here on Tuesday, the SACAA members Bharat Basnett, Nawin Kiran Pradhan and Punya Koirala said the SKM should be celebrating 'Karwayi Diwas' instead of 'Pratibad Diwas'. They also accused the ruling front of withdrawing the case against Sachdeva.
"To ensure that such a black day in Sikkim's history is not repeated the SKM party and now the government must pursue an in-depth inquiry into the incident that unfolded on this day in 2013. They had made a civil appeal to the Supreme Court of India on July 5, 2013 in a case that was termed as Kala Rai and others versus the State of Sikkim and others, but over the course of seven years, the case has fizzled out," said the SACAA members.
The SACAA alleged that SKM has been unable to give justice to its own party workers let alone the State and many of the police officers who were allegedly instigated by the then IGP (Law and Order) with a derogatory remark questioning their manhood.
"Even the case with regards to Sachdeva calling his own work force with a derogatory remark, the justice for these police officers has not been served as the State government has withdrawn the case on November 29, 2019. A total of 24 hearings had taken place with the Solicitor General putting forth a suggestion for an inquiry as early as the third hearing," stated Pradhan.
According to the SACAA, an inquiry report had been submitted to the court as early as October 2013 following which the provision to take action was passed to the State government.
Sachdeva was issued a notice and transferred to a meaningless post under the State government and the case was disposed of on November 29, 2019, said Basnett.
Demanding for an action from the State government, the SACAA slammed the SKM government for not taking the case further. "The day they withdrew the case is the day that SKM should be observing as a black day. There is no point in observing Prativaad Diwas", said the SACAA.