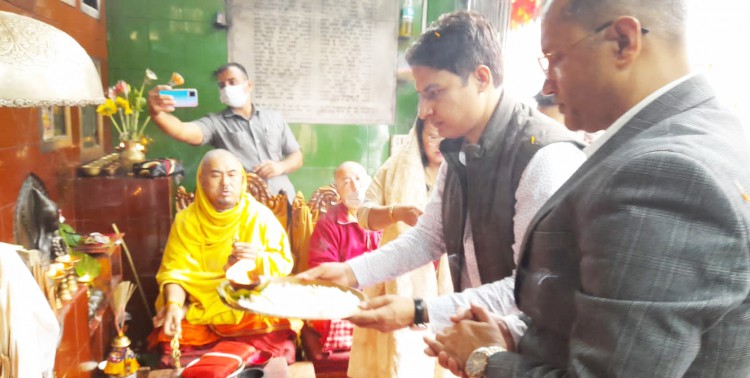 Sunday, Oct 10, 2021 14:15 [IST]
Last Update: Sunday, Oct 10, 2021 08:46 [IST]
Oct 12 meeting will discuss on PPS & tribal status: Bista
DARJEELING,: With many doubts and questions being raised on the meeting called by the Union Home ministry on October 12 at New Delhi, Darjeeling MP Raju Bista today said that it was a "tripartite meeting" with the Bengal government also invited to attend.
Bista was speaking to media during his visit to Darjeeling where he offered puja at Mahakal mandir and held a meeting with BJP alliance parties at his house.
"The meeting that will be held on October 12 is going to be at the political level and the presence of the Union Home minister in it shows the importance given to the meeting. It is a tripartite talk and the Bengal government has been called for it," said Bista adding that the invitation has been sent to the West Bengal chief secretary.
He also said that like previous times, Dooars has not been left out with stakeholders from that region also been invited for the meeting.
"It took one and half months more for the meeting to be held as it took time to include Dooars also," he said.
According to the Darjeeling MP, two issues will be discussed in the meeting which are Permanent Political Solution (PPS) and tribal status for 11 Gorkha communities for which the Tribal ministry secretary and RGI have also been called in the meeting.
"If we miss this opportunity, the Gorkhas will have to face hardship for next hundred years. I have been trying sincerely for it as only two and half years remain and something concrete on it should happen as after that I don't know how many years it might take," Bista said.
Bista added that it was not possible that a solution will come forward in one meeting. More meetings would follow and it is up to the State government and the Home ministry, he said.
Speaking on the State government's role in the meeting he said, "India has a federal structure and the State government has a big role to play and they have also said they want a solution."
"We want such a PPS that which has the role of the Centre as the big brother and is constitutional along with giving maximum freedom," he said.
Asked about the meeting being called on a holiday, the MP said: "I talked about this with the Home ministry joint secretary and he said there was no holiday. Moreover, I feel that Phulpati is an auspicious day and what better day to hold such a meeting."
While on the issue of only BJP alliance parties being called in the meeting, Bista said: "It is for the Home ministry to decide as to whom they should call. Moreover, the State government has been called and it is not necessary that after the mother (Mamata) has been invited, their kids have to be called too. They have already said that they will do whatever their mother will say."