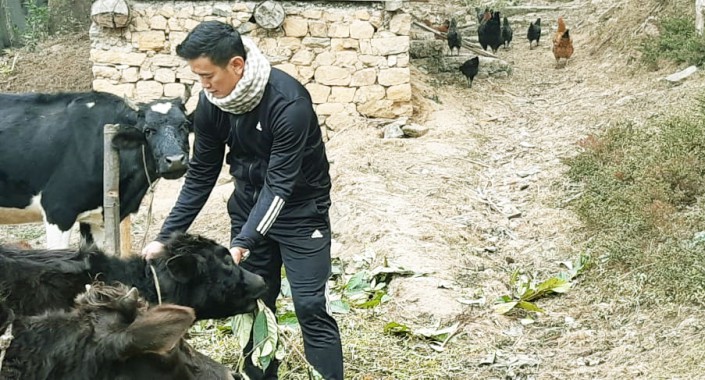 Wednesday, Jan 13, 2021 07:45 [IST]
Last Update: Wednesday, Jan 13, 2021 02:09 [IST]
One Bhaichung Bhutia can make a summer
SUDIPTA CHANDA
SILIGURI,: He is wearing a new jersey. Yet another one? But, what's new, aren't they switching jerseys by the hour these days?
Oh no, this is not about another political defection. That doesn't raise eyebrows anymore. For a change, it is all about social inclusion.
So who is the man in the new jersey and what does the legend on the jersey say?
Former India football captain Bhaichung Bhutia it is. And, the galactico is now an ambassador for rural tourism and sustainable development, courtesy the Association for Conservation and Tourism (ACT).
A volunteer organization, the ACT has been promoting sustainable development and rural tourism in the whole of Eastern India since the turn of the millennium.
The outcome of the effort found appreciation beyond borders. That brought in enthusiasts from Nepal, Bhutan, Bangladesh and Myanmar in the mission.
The organization is now a burgeoning behemoth dedicated to sustainable development engaging rural communities. And, the entire exercise is voluntary.
Having earned plenty of recognition, ACT now needed a goodwill ambassador to take forward the mantra of sustainable development, which is essentially a theory to make optimum use of local assets, being protective about environment at the same time.
And, who better than Bhutia to adorn that post?
Besides being a youth icon, Bhutia has his roots at Tinkitam Village, South Sikkim. So he knows a thing or two about rural life.
And, he has accepted the invitation to actively promote the slogan "From Boots to Roots".
These days Bhutia shares his time between his home state Sikkim and other parts of the globe.
But, his popularity precedes him and wherever he goes the youth throng him either for a pair of football boots or a quick tip on the game and how to build a career in football.
"That is one angle which can come very handy in our sustainable development mission," pointed out ACT convenor, Supratim Basu.
"In addition to imparting football lessons, Bhutia will henceforth also sensitize the youth to be respectful towards environment and make best use of local assets."
"That in turn would bring economic benefits to local communities and they would contribute in building self-sufficient societies," believes Basu.
So, Bhutia who probably also went to bed wearing his football boots, now has a new role to play. And he has taken to it in the way a duck takes to water. His mission has begun.
With all the football coaching he does, Bhutia these days is a "Guru", a much revered word in the Indian psyche.
And, when a "Guru" speaks, others listen.