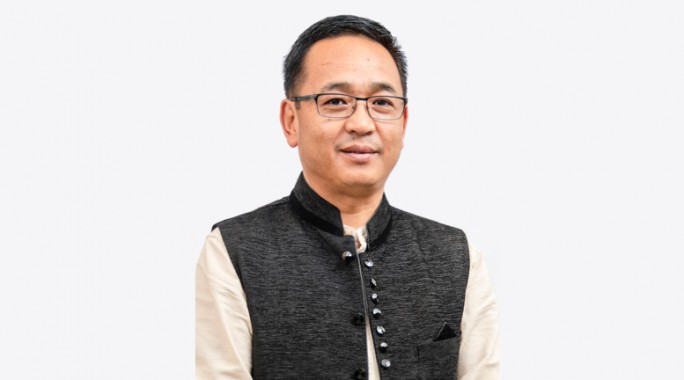 Friday, Jun 05, 2020 14:15 [IST]
Last Update: Friday, Jun 05, 2020 08:43 [IST]
Only option we have is to treat nature with respect: CM
SE Report
GANGTOK: Chief Minister P.S. Golay, in his World Environment Day 2020 message, has highlighted the importance of environment protection for the survival of human civilization.
"The greatest lesson from this year is that emerging infectious diseases pose a major threat to civilization. Scientists believe that habitat loss and trade in wildlife and wildlife parts is one of the major reasons for the spread of zoonotic disease such as Covid-19. With the coronavirus, it is clear that human health and wellbeing is linked with the health of habitats and the overall health of our planet. The only option we have is to treat nature with respect and use her resources sustainably. Finally, we are all in this together," said the Chief Minister in his message.
Golay mentioned that Sikkim is a part of the greater Himalayan ecosystem with links to Bhutan in the east, Nepal in the west, and the State of West Bengal in the south. The common challenges need to be addressed through greater regional cooperation, he said.
"I feel happy to see Sikkim as a partner of the landscape initiative in the Khangchendzonga complex. The recent exchange of breeding yak bulls from Bhutan to Sikkim and Nepal and regional dialogue on large cardamom were good examples of regional cooperation which should be further strengthened."
"It is revealing that this year's World Environment Day reminds us that it's time for nature. This is timely as the whole world is facing a pandemic and there is increasing evidence that this is a result of the degradation and unwise use of nature," said the Chief Minister.
"On the occasion of the World Environment Day 2020, let us resolve to safeguard nature and double our efforts at building social-ecological resilience in Sikkim. Once again my best wishes to everyone for a Happy World Environment Day!," said Golay.
The Chief Minister pointed out that Sikkim has been a pioneer in biodiversity conservation. "In recent years, Sikkim has also led the way in pioneering research on biodiversity and climate change. Many young scientists are carrying out quality research on the biodiversity of Sikkim, including exciting work on how species are moving upwards as a strategy to adapt to climate change. Researchers from Sikkim University have recently recorded a new species of butterfly and also showed evidence of how organic farming supports butterfly species diversity," he said.
At the same time, Golay spoke about Sikkim, like other mountain States, is facing a number of issues that threaten the environment, biodiversity and livelihoods of its people. "Researchers fear that the impact of climate change might even lead to the extinction of some species in Sikkim. We need to meet these challenges head on to conserve Sikkim's biodiversity and sustain the flow of ecosystem goods and services that contribute to the wellbeing of people in the State and downstream," he said.
Sikkim is also paying a price for its conservation successes, said the Chief Minister.
"In many areas, successful conservation has led to increasing wildlife populations and growing human-wildlife conflict. Traditional practices and traditional knowledge are also being eroded or lost. For example, yak herding in north Sikkim, an age-old tradition of the high mountains, is slowly dying due to both changing climate and a new generation that is less interested in herding as a livelihood option. Then there are emerging conservation challenges. With climate change, the protected areas in Sikkim are required to be bridged for greater biodiversity and ecosystem services," said Golay.