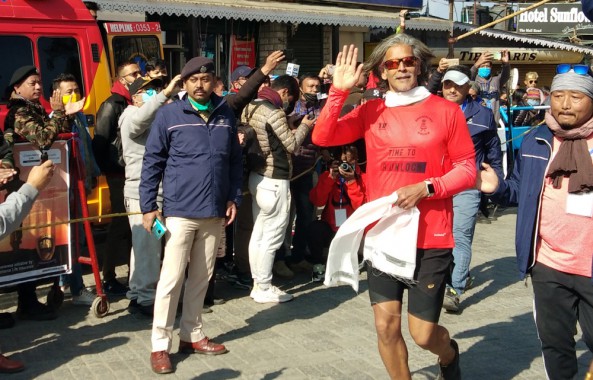 Monday, Nov 23, 2020 15:45 [IST]
Last Update: Monday, Nov 23, 2020 10:19 [IST]
Over 2,000 runners take part in Darjeeling marathon Star attractions Milind Soman & Kailesh Kher hails the hill event
Our Correspondent
DARJEELING: The 7th Darjeeling Hill Marathon on Sunday had it all – good weather, more than 2,000 participants running with Milind Soman and a 'Kanchi hai Kanchi' performance by Kailash Kher.
Milind Soman, the brand ambassador of the event organised by Darjeeling police, ran the marathon along with his wife Ankita Konwar and his octogenarian mother Usha Soman.
"Runners from different parts of India like Kolkata, Mumbai, Pune, Chennai, Bengaluru and Sikkim took part along with the local people who also fared well in the marathon," said Darjeeling ASP Abhishek Gupta.
The Darjeeling Hill Marathon has 12 categories in the 21.1 km run and 10 km run while a separate run was scheduled for the police personnel. All the runs started from Chowrasta.
For the half marathon (21.1 km), the participants started from Chowrasta and ran past Singamari and Chowk Bazaar to reach Ghoom where they took a U-turn to reach back to Chowrasta. The cash prizes for this category were Rs. 1 lakh (winner), Rs. 50,000 (first runners-up) and Rs. 25,000 (second runners-up).
The top cash prizes for the 10 km run were Rs. 25,000 (first), Rs. 15,000 (first runners-up) and Rs. 10,000 (second runners-up).
"It was a fantastic experience with us enjoying the weather and the hospitality of the people here. I congratulate the Darjeeling Police for this programme as this is the first running event after the lockdown in the country and I am happy to be here. I had last ran in such an event in February," said Milind Soman.
Kailash Kher shared that he would love to visit Darjeeling again.
"We have gone to many tourist places in India and Darjeeling is more beautiful than many places which is possible when the people are beautiful. Apart from that I found this place using less plastics and cleanlier with people throwing no trash around them. All the people here have a welcoming expression which is a unique element," said the singer.
Kailesh Kher and his band performed at Chowrasta belting out the crowd's favourite songs. He further endeared himself to the gathering with his rendition of 'Kanchi hai Kanchi', a popular Nepali song.