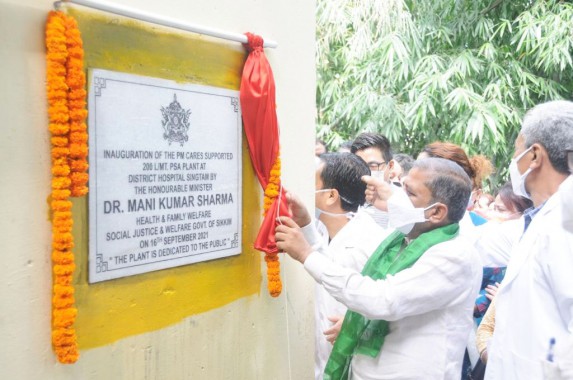 Friday, Sep 17, 2021 06:30 [IST]
Last Update: Friday, Sep 17, 2021 00:52 [IST]
Oxygen plant inaugurated at Singtam hospital
GANGTOK, (IPR): Health minister Dr. M.K. Sharma today inaugurated the PM Cares Supported 200LPM PSA Plant (Oxygen Plant) at District Hospital, Singtam.
Addressing the programme after the formal inauguration, the minister stressed on the importance of medical oxygen as a life-saving aid. He further highlighted the importance of the oxygen plant during the Covid-19 situation.
The minister stated that the installation of the oxygen plant is yet another milestone in the health care system in the State. He further informed that oxygen plants of various capacities are being inaugurated simultaneously today in the remaining three districts.
The minister in his address urged everyone to make hygiene an integral part of one's life, and to keep public spaces clean. He urged the participants to actively participate in the implementation of government schemes.
The programme was attended by RDD chairperson Sunita Gautam, members of Singtam Nagar Panchayat, CMO (east) Dr. Tempo Gyaltsen, DMS (east) Dr. Manoj Mishra, doctors and medical staff of District Hospital Singtam, officials, and local gentry.