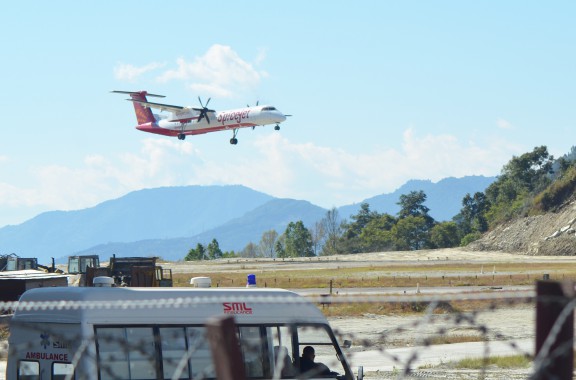 Pakyong flights to Delhi, Kolkata from this month
AJAY THAMI
PAKYONG,: Spicejet would start its Sikkim flight operations later this month along the new route proposed by the director, Airports Authority of India (AAI) Pakyong during the previous trial flight.
The domestic private airliner had done the trial flight on November 17, 2020 where its aircraft landed and took off at Pakyong airport as per the new flight procedure for which less visibility is required.
Pakyong airport is about 32 km away from Gangtok.
Technical issues would be sorted out during the meetings on January 19 and 20 at Bagdogra between AAI and Indian Air Force.
The first flight at Pakyong airport is listed on January 23 along the Delhi-Pakyong-Delhi route. The Kolkata to Pakyong and Pakyong to Kolkata trips would start from January 28.
"We are delighted to launch new flights connecting Pakyong to the national capital. Sikkim is one of the most beautiful and sought-after travel destinations in India," said SpiceJet chairman and managing director Ajay Singh in a statement.
He added that the flights from Delhi to Pakyong will cater to the growing demand of leisure travellers and backpackers who want to visit Sikkim.